Traffic Should Come From a Variety of Sources
Written by Nick Stamoulis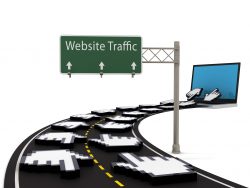 One of the chief functions of online marketing is to increase website traffic. Of course, that doesn't quite tell the whole story. The traffic needs to be highly targeted because the underlying goal is for marketing to use these traffic generation tactics to help the business grow as a whole.
However, marketing teams focus on only one or two sources of traffic generation. This isn't a good strategy because what if one of the traffic sources decreases considerably? The answer is that the company stands to lose a lot of business. The goal, the, is to make sure that traffic comes from a variety of sources. Here's more information:
Use Multiple Ways to Market
It's true that marketers should generate traffic using a variety of sources. This means that a well-rounded mix of sources should be implemented. This includes search engine optimization, content marketing, social media marketing, paid advertising on social media, email marketing, and pay per click marketing. Each company should come up with a marketing mix that makes sense for their needs. This will have a lot to do with the market the business is in, behaviors of existing customers, and methods used to generate leads and new business.
Too often, companies focuses on only two or three traffic sources. This is dangerous because what if one of the methods for gaining traffic is taken away? For example, if you are experiencing a drop in traffic in the search engines, this could result in a serious loss of business if you rely too heavily on SEO.
Minimize Negative Impact
By diversifying your traffic sources, you lessen the negative impact a drop in traffic could cause. It's a good idea to take a step back and analyze all your existing traffic sources. The more that your business has, the better off you'll be. The truth is, it is impossible to predict how your marketing efforts will pan out. By putting several irons in the fire, you release your dependence on each of them.
It is so much better to be prepared for the future. Any number of things could happen that would cause a traffic source to deplete. For example, your audience could stop using a particular social media site that you may have relied on in the past. Google could go through a core update that results in a drop in traffic. You may decide to reduce ad spend on PPC. If you rely on PPC as a major traffic source, you shouldn't be able to decrease your ad spend.
So, what can be done instead? The goal is to have as many traffic sources at your disposal as possible. Rather than focus on just one or two, such as PPC or SEO, you should employ a variety of tactics. That way, you won't lose momentum in your business if one of these traffic sources got taken away. The future of your company will be more secure. It is so much easier to have these sources implemented from the beginning, rather than try to develop a traffic source after something happens. By then, it might be too late.
Categorized in: Digital Marketing
LIKE AND SHARE THIS ARTICLE:
READ OTHER DIGITAL MARKETING RELATED ARTICLES FROM THE BRICK MARKETING BLOG: