Your Digital Marketing Needs to Target the Right People
Written by Nick Stamoulis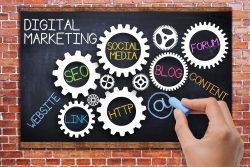 When it comes to digital marketing, small business owners need to understand that if your business is attracting a lot of people, this isn't necessarily the ideal scenario. You may believe that the more traffic you have coming to your website, the more successful, the better your business will be. We get asked if we can help them make a social media post "go viral" or if we can increase their traffic.
While the main goal of digital marketing is to increase business, increasing traffic isn't always going to get the job done. It all depends on if you're attracting the right people. In other words, if your online marketing efforts aren't attracting the right audience, it won't increase business.
Get to Know Your Audience
Each business out there has a sweet spot when it comes to its ideal audience. Before you start working with a digital marketing agency, or even before you start marketing your business in general, you need to fully understand what this audience is. In order to be successful, you need to let the right people know about what you have to offer.
Everything you do in digital marketing, such as social media or writing content for your website, will be designed to attract the right audience. If you miss the mark and target the wrong people, your conversion rates will likely be low. In other words, you won't succeed in getting the new business that you desire. Take the extra step to get to know your target audience before you work on your digital marketing.
In other words, you should use your digital marketing to get to know your audience as well as you can before you really start your digital marketing campaign. Otherwise, it might be difficult to make changes. You need to be as flexible as possible.
Your Audience Might Change
From our years of experience, we know that your target audience might change. If you have already begun your digital marketing, it can be hard to make changes. You may project that a certain demographic will embrace your product or service, but until your business has been up and running for a while, you may not understand if you were correct or not. If you start an aggressive digital marketing campaign too soon in the process of opening your business, you may find it more difficult to make changes.
The ideal scenario would be that you start your digital marketing in a very conservative way and ramp things up as you go along. As soon as you are confident that you have found the right audience, you can increase the frequency of social media, start publishing more articles on your blog, and target certain keywords in your search engine optimization. However, all of these activities depend on whether or not you know what your audience is. If your audience has to change, all he previous work you did might be for nothing.
Categorized in: Digital Marketing
LIKE AND SHARE THIS ARTICLE:
READ OTHER DIGITAL MARKETING RELATED ARTICLES FROM THE BRICK MARKETING BLOG: