Developing Your Social Media Strategy
Written by Nick Stamoulis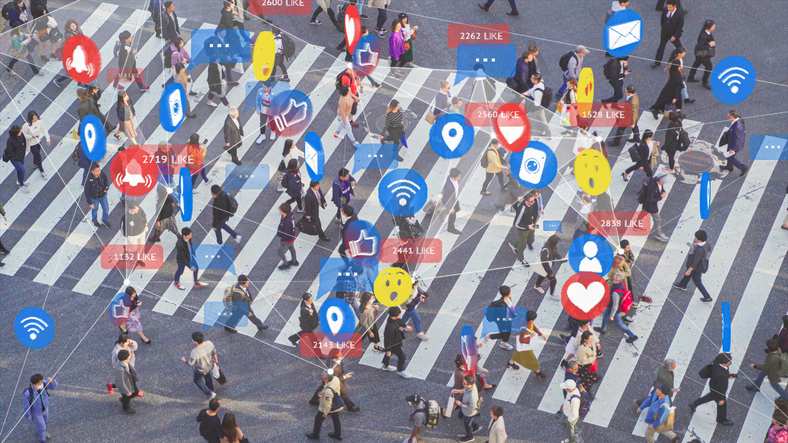 The success of your company's digital marketing strategy is greatly dependent on social media. Your social media strategy requires a unique set of skills to make your brand credible and distinguished. It gives you a master plan to create, post, and engage your audience with content. The strategy summarizes what you intend to do and aspire to achieve on social media.
An excellent social media strategy involves creating a plan for sharable content, choosing the appropriate social media platforms, and using the right tools to help you support your efforts. Many businesses know that they need to do something about social media, but they don't understand what they should do.
This guide provides you with a step-by-step plan for creating a successful social media strategy.
Set Realist Social Media Marketing Goals
The first step to creating a successful social media strategy is determining your goals and objectives. They are what you will use to measure the success of your campaign and ROI. These goals need to fit into your overall business plan. The guiding model for setting your goals is the acronym SMART which means that your goals must be Specific, Measurable, Attainable, Relevant, and Time-bound.
Evaluate Your Resources
When creating a social media strategy, you need to be realistic about what you can exploit. Find out how much money, volunteer time, staff time, and technical support are required to achieve your social media objectives and goals. When you consider the ongoing effort needed to ensure your social media accounts are current, these could be in limited supply. Ensure that you can maintain an optimum ongoing level of activity on social media by launching your campaign on the platform(s) that you can efficiently manage.
Learn Everything About Your Audience
One of the keys to successful social media marketing is identifying your audience and knowing what they like to see on social media. It will help you create content that they will like, comment on, and share. Your aim should always be to convert your social media followers into clients for your business. Some of the details you should endeavor to find are their age range, average income, interests, job industry, and location.
Investigate Your Competitor's Approach
Your competitors are likely already using social media; thus, you need to know what they do. Carry out a competitor analysis to understand who they are and what they are doing well or not so well. It will give you an idea of what to expect in the industry and help you develop viable social media targets. Finding out their strength and weakness will help you determine the best approach to take in your social media strategy to have the edge over them.
Do a Social Media Audit
If you are already on social media, you need to take stock of how you perform. Try to find out what efforts are working and those that are not, who is engaging you, what networks your target audience prefers, and how you compare to your competitors. This information is crucial in helping you realize what you need to improve and how. This audit will also enable you to decide the social media platforms to focus on for the best ROI.
Establish a Realistic Social Media Budget
Social media marketing should have a specific budget in the overall digital marketing plan, as with all other forms of marketing. You should not expect it to succeed by simply assigning the role to a pre-existing list of duties that your office staff performs. Have a realistic figure based on your predetermined ROI and have your overall business goals and objectives in mind.
Set Up Accounts and Improve Profiles
Having done your social media audit and seeing what your competitors are doing, you can now decide which social networks to use. It would help if you defined the strategy you will use for each of your chosen platforms. The constant thing you must ensure on all your social media accounts is filling them out entirely, including keywords for better ranking, and being consistent with your branding.
Look for Examples to Find Inspiration
Although your brand should be unique, you should look at other significant businesses on social media to get inspiration on what to do with yours. It will help you know what they do to engage their followers and compel them to share their content. Another thing that you can benefit from is the social media success stories that offer valuable insights that you can use in your social media plan.
Create a Calendar With the Best Times to Post
Planning the types of content you want to share and making it compelling is essential, but you must have a schedule for sharing your content to have maximum impact. It would be best if you had a plan with a list of dates and times that you will publish various types of content on each channel. This task is a bit complex, but if you know your audience and with some practice, you can master it.
Track Your Performance
The final step in your social media strategy is to track your performance on all the platforms. It will help you know what strategies worked and those that did not. With this information, you will be able to plan for future campaigns based on the success rate efficiently.
There are many different approaches to social media strategies depending on your goals and industry. The important thing is that you must adhere to every step of whichever method you choose to use. Your ability to ensure that you take each of the steps will determine the success of your social media campaign.
Categorized in: Social Media
LIKE AND SHARE THIS ARTICLE:
READ OTHER DIGITAL MARKETING RELATED ARTICLES FROM THE BRICK MARKETING BLOG: