SEO Should Align with Your Business
Written by Nick Stamoulis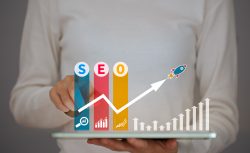 It's true that SEO is something that can help increase your organic visibility in the search engines. However, the process goes much deeper than that. Ultimately, it is a technique that businesses can use to make sure they are finding the right people who are interested in what they have to offer. This is done through careful planning. SEO can't be done blindly, and it needs to be executed thoughtfully, or else Google might determine that your actions are a detriment to your audience. If they are, they won't favor your website in the search engines.
So, how do you align your SEO with your business? Well, it takes getting to know the ins and outs of your business, learning about your audience, and determine the best SEO strategy that will help you connect your audience to your business. Here are some thoughts:
Determine if Your SEO Aligns With Your Business
So, what do you need to keep in mind when determining if your business and SEO are in alignment? Here are some business elements that you should check in order to determine if your SEO strategy makes sense.
Business Objectives
It is a good idea to pay attention to your business objectives before you create an SEO strategy.
In other words, your business objectives will determine what type of information is being sought by your audience and which words will be relevant to that objective. An example of this is a fitness website that sells fitness equipment. Their business objective might be to help people lose weight, so keywords related to those concepts should incorporate into their content.
Target Audience
As mentioned above, you really need to get to know your audience. Who is interested in what you have to offer? You're in business so that you can find people who want your product or service. It makes sense that the better you know your audience, the easier it will be to reach them. Your target audience are the people you are trying to reach with the information on your website. Information is related to your audience if it is of interest to them. For it to be related, you need to get the customer's attention and encourage them to share it.
Industry
Your industry will determine the type of content published by one's competitors and complements one's business strategy and target audience. When your content aligns with your audience, it is important to understand that this automatically aligns your SEO with your business. What is the nature of your industry? What types of SEO strategy do your competitors use? You don't necessarily want to copy what they do, but you should gather enough information to help you determine what kinds of SEO works for your industry.
SEO makes it easier for users to find your business's website and build a long-lasting relationship with your brand. It can help you get new customers, keep current ones, and ensure that you're on the best path towards success.
Categorized in: SEO
LIKE AND SHARE THIS ARTICLE:
READ OTHER DIGITAL MARKETING RELATED ARTICLES FROM THE BRICK MARKETING BLOG: