Should You Ask for References When Hiring a Digital Marketing Firm?
Written by Nick Stamoulis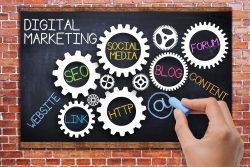 You are searching for the digital marketing firm that is the perfect fit for your company. Every firm has a different way of doing things, and you just want to make sure that they understand your needs and know how to help you achieve your goals. While searching, you may be tempted to ask them for references. After all, this is an easy way to see if they'll do a great job for you. Or is it?
The truth is, not every digital marketing firm will be a good fit for you, even if they have a proven track record. References will not give you the big picture. Here's more information about this:
Hire Based on the Big Picture
While researching a company online, chances are pretty good you'll find their website and social media profiles. You may also find some online reviews, testimonials, and maybe even case studies. While browsing, you may also sign up for their email list. These items are all important because they will give you a feel about who they are and whether or not they are a trustworthy company that will help you achieve your goals.
References don't always give you the big picture. In fact, they can do more harm than good. When speaking to a former customer, you will get a biased viewpoint of how the firm will handle your business. Even if the former client had gotten great results, this still might not be enough. Since every company is different, the digital marketing company may change their approach for you. By getting a biased opinion of the process, this could impact your decision.
You're Looking for a Partner
The bottom line is that you are likely looking for a marketing partner to handle aspects of your marketing plan that you can't handle in-house. Finding this partner is something that should be top priority, and references won't help. Everyone is looking for different things and will have different experiences. You can make a solid decision without being swayed by the opinions of others.
Looking for an outsourced partner requires a different process than hiring an employee. Employees are hired under the assumption that the leadership of the company will direct their work day and dictate the process. There's a different mindset that needs to be adopted when hiring a marketing firm to help you. These firms are filled with people who are experts at their job. Their expertise is why you hire them, which is why they aren't treated like an employee.
Assuming that you need references is the equivalent to performing a background check on someone you are thinking of hiring at your company. When it comes to a digital marketing firm's reputation, you can easily gather that by not only finding information about them online, but you can also get a feel for whether or not they are a good fit for your business and your needs just in the way the phone call goes when you actually speak to them.
Categorized in: Digital Marketing
LIKE AND SHARE THIS ARTICLE:
READ OTHER DIGITAL MARKETING RELATED ARTICLES FROM THE BRICK MARKETING BLOG: