Pros and Cons of Hiring a Local Digital Marketing Firm
Written by Nick Stamoulis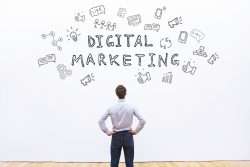 These days, it isn't necessary to hire a local digital marketing firm since everything can be done remotely. Firms could be located anywhere in the world. However, businesses often struggle with this idea. They often believe that their SEO and marketing service providers need to be in their local area in order for the program to be effective. The truth is, there are pros and cons to both situations. Here's a look at the pros and cons between hiring a local firm to handle your digital marketing:
Local Doesn't Always Mean Better
A business's priority should be to find the marketing firm that will best service their needs and their industry. They would ideally find one that is the best fit while also having a track rate of success. Whether or not the firm is local shouldn't matter here. The goal should always be to find a firm that is the best fit. In other words, you don't want to skimp in terms of experience and education. You want to hire the best firm for the job and it might be that a remote firm will be the best fit.
Remote Firms May Not Have Local Knowledge
In some cases, businesses may find that a local firm may be better poised to service a business's needs. This is especially relevant with local businesses that rely on the firm having special knowledge about the culture of that area. This would be extremely difficult for a remote firm to understand and even learn about. It's much easier for these companies to stick with the firms in their area. If inside knowledge of a local area will make or break your business's success, hiring a local firm might be your best approach.
Cost Could Be Affected By Location
Another thing to keep in mind is that cost could be impacted with firms based in the local area versus those located elsewhere. However, this all depends on the market. Local doesn't always mean cheaper. Not only that, but price really shouldn't be a huge factor when it comes to hiring a firm. The goal should always be to find the best firm for the job, as long as it is within budget. Hiring a firm simply because they might be less expensive than another firm really isn't a good approach. Besides, the old saying really is true – you get what you pay for!
Communication is Key
Many businesses believe that unless a marketing firm is local, it will be difficult to communicate with them. This is absolutely not the case. Phone calls, emails, and conferencing software programs all make communicating easier than ever before. This is also an efficient use of time. Locally based meetings tend to be time consuming, especially since additional planning needs to be done in order to allow for travel times, et cetera.
No matter what the company's goals are, the priority should be to hire the best talent for the job. Smaller areas may not have access to a good talent pool, which means that results could be lacking. The goal for any company should be to find the best
Categorized in: Digital Marketing
LIKE AND SHARE THIS ARTICLE:
READ OTHER DIGITAL MARKETING RELATED ARTICLES FROM THE BRICK MARKETING BLOG: