B2B Companies Should Use Storytelling for Their Content
Written by Nick Stamoulis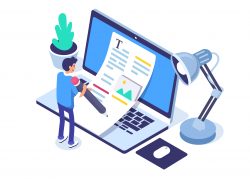 It is human nature to love a good story. We tell stories on a regular basis. When something happens to us, we love to relay the story as anecdote. We also love to listen to other people's stories. In addition to using storytelling to interact with one another, we watch movies and shows and read books, all with the intent of being told a story.
This is a concept that absolutely translates to our marketing. Storytelling in digital marketing can be as simple or complex as we need it to be for our brands. However, it is important to understand that every business can benefit from it, even those that operate in the B2B space.
There is a misconception that storytelling is a tactic best used by B2C companies. This couldn't be further from the truth. Here's more information about it:
Storytelling Helps Customers Related to Your Content
To effectively tell your story, you must first understand your buyer personas and company, and his is a critical concept for B2B content. When you begin by defining your brand, you can nail down your "why" – the reason for your company's existence and the problems you assist your audience in resolving. This is where a good company story begins, with articulating the "why".
You also want to consider your persona's target audience. When creating your brand's content, consider your personas' challenges. Keeping this in mind will help you create content that has the proper tone, tells a compelling story, and engages your audience.
Once you determine the persona, taking the time to connect you "why" with that persona can help you nail down why the business exists in the first place. What problems do you want to help your customers solve? Rather than starting with a solution where you emphasize your brand, you can set the stage by outlining your customer's needs and challenges before illustrating how your company can assist. Customer-focused content ensures that your audience sees themselves in the situation, and this is where storytelling thrives.
Make Sure Your Story and Your Content Are Both Authentic
Choosing to integrate stories into your content marketing strategy does not imply creating an account from scratch. Contemplate how you can demonstrate authenticity as part of your brand message. Many potential customers will want to learn how others have seen progress with your company before engaging with you further.
Nothing beats letting your clients tell the story on your behalf, so make it simple for them to share their stories about how your company helped them solve their problems. Today's buyers research products and seek advice from relatives, friends, and colleagues – they're more likely to trust your company if they see that others do as well.
Storytelling Sets You Company Apart from Your Competitors
Storytelling sets your company apart from the competition. You may have several competitors, but no one has the same, unique perspective as you. Your story can help someone decide if they will become a customer or not. Your story needs to be written in a way that expresses who you are, while also effectively connecting your audience to what you have to offer. Your story gives you a chance to stand out.
Emotional stories are especially effective at grabbing people's attention. Building client relationships is easier when you view people as humans instead of profiles or buyers. Authentic storytelling differentiates content, establishes a brand as an industry leader, and appeals to emotions. As the content landscape becomes more competitive, it can help your company stand out.
Categorized in: Content Marketing
LIKE AND SHARE THIS ARTICLE:
READ OTHER DIGITAL MARKETING RELATED ARTICLES FROM THE BRICK MARKETING BLOG: