Is Your Online Branding Outdated?
Written by Nick Stamoulis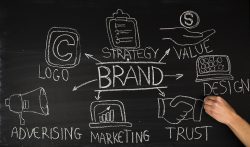 Are you wondering if your banding is outdated? It can happen before you even realize it. Branding is a crucial component of your business' success because it says a lot about who you are. This includes details about your products or services and what your company values are. Branding strategy forms the core of any great marketing strategy. The problem is, an outdated brand strategy could have the opposite affect and even cause you to lose business.
The bottom line is, if the branding is outdated, you should take measures to change things up. Here's a look at how you can known if you need to give your branding a reboot:
Your Industry Has Changed
Has your industry changed at all over the past year or so? If so, this could be a sign that your existing branding won't get the job done any longer. In some cases, the changes could be so gradual that they may have escaped your notice until the divide between your branding and the current trends in your niche becomes fairly large. While outdated branding isn't necessarily an issue at first, the wider the gap is between your company and the current industry trends, the more troubling this is for your company. The solution here is to determine what the changes to your industry are so that you can figure out how to change your branding in order to adapt with the times.
Web Design Has Changed
In some cases, it isn't actually the industry that has changed that may make your branding outdated. It could be the way that your website is designed that is the culprit. Popular web design trends from a few years ago may not be considered best practices in today's climate. To make matters even more complicated, trends for web design could change depending on the industry. To determine if your website needs a reboot, you should observe other sites in your industry to see how your competitors are doing it. You don't want to look exactly like your competitors, but you should incorporate any design elements that are considered the standards for your industry.
Make Changes Gradually?
There are two schools of thought when it comes to giving a brand a reboot. Some believe that you should make changes gradually. Others believe that you should make branding changes on a gradual basis. The approach that is right for your company will depend on the situation. If you are completely overhauling your business, you might want to consider a major rebrand, done all at once. If you simply need to give things a fresher appearance, less could be more in this case. It all depends on the situation and what your goals are.
No matter what the situation is, however, it is a good idea for all businesses to at least question if their branding is becoming outdated at least once a year. It is much better to keep up with industry trends and changes on a gradual basis rather than have to cope with altering a lot of things at once.
Categorized in: Digital Marketing
LIKE AND SHARE THIS ARTICLE:
READ OTHER DIGITAL MARKETING RELATED ARTICLES FROM THE BRICK MARKETING BLOG: