Does Guest Posting Still Work?
Written by Nick Stamoulis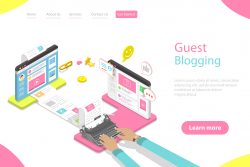 Guest posting is a tactic that has worked in the past as a tool for developing quality backlinks. When Google cracked down on this practice because of their rules about "link schemes", many people stopped guest posting. However, as it turns out, they didn't need to do that. Guest blog posting is still alive and well and can still add value to your marketing. Here's more information:
Unique Content Adds Value
If you create a guest blog for a website, the content can't exist anywhere else on the web. If you send the same content out to spammy sites and they publish it, the backlink isn't worth it. Of course, if a publisher declines your guest post, you are free to send it to another publisher.
Publishers of top quality blogs are looking for unique content that adds value for their readers. Ideally, choose a topic the blog doesn't already cover in-depth as the publisher is more likely to accept your contribution.
Process of Guest Posting
The goal is too find high quality blogs in your niche. Peruse the site to see if they have any Write for Us or similar link. If not, contact the editor to see if they accept guest posts. Never use a canned email, personally compliment the editor on the quality of their blog and ask if they would consider accepting a guest post from you. Include a link to your site so they can see the quality of your work.
Tips for Writing the Post
Individuals who publish popular blogs receive many pitches for guest posts. They can't possibly read through all of them, making an engaging headline is essential for catching their attention. Certain types of headlines attract more attention that others. If your post is a guide or tutorial, use a famous name in the headline, such as How to Play Tennis Like Serena Williams. How to headlines always attract attention. People often search online to learn how to do something. You can also use numbers, such as The Top Five Ways to Attract New Clients. Headlines promising industry secrets also do well. Whatever your headline, make sure the post delivers.
Adding Links to Guest Posts
You naturally want a backlink or two for your efforts, but don't push the envelope. One do follow link in the post is enough to get you the backlink you want. Include a link in your author bio as well. If your post is engaging, readers may want to check out your site. One contextual do follow backlink is good enough from a source, especially an authoritative one, is enough. In other words, it is okay to add links to the post, but it isn't a good idea to go overboard. If it doesn't seem natural, Goole will notice and it won't be as effective.
You will hear guest posting is dead in the wake of Penguin. It isn't, but paying spammy blog networks to publish your guest post is dead. The idea should be to expand your audience and help about another blogger at the same time.
Categorized in: Digital Marketing
LIKE AND SHARE THIS ARTICLE:
READ OTHER DIGITAL MARKETING RELATED ARTICLES FROM THE BRICK MARKETING BLOG: