Goal of Digital Marketing is to Increase Traffic
Written by Nick Stamoulis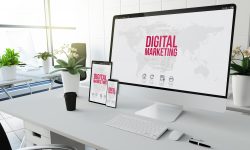 Marketing is always done with the goal of increasing business, and this is true no matter if the marketing tasks are online or offline. Offline marketing tends to have specific goals, such as generating leads or maybe for branding. The same is true for digital marketing, except the number one purpose of this type of marketing is to increase traffic.
You can improve your business by increasing the traffic to your website. The more people that view it, the higher odds of people buying your products or services. With this in mind, digital marketing works as one of the best ways to draw in more traffic to your business' website.
All businesses need to employ digital marketing tactics and the ultimate goal is to increase visitor traffic. Here's more information about this:
Increase Traffic Through Digital Marketing
Although digital marketing can help with other aspects of your business, the most important use for it is to increase traffic. One of the strategies that can be used to do this is to employ a solid search engine optimization program. This includes writing great content, employing a social media program, and developing a solid link portfolio.
It is important to understand, though, that no matter what content you create online, it needs to be created with the customer or potential customer in mind. This will serve to give readers great information to read while also highlighting what your business does. In other words, you need to identify the desires of your audience. If you know what they want, then you can offer this information through your website and therefore, through your online marketing.
Develop the Best Digital Marketing Mix For Your Business
It's true that digital marketing is designed to help businesses increase traffic. However, it is important to understand that each business will have its own, unique marketing mix. Whether you use social media, content marketing, search engine optimization, or even online advertising, will depend on your business's goals.
While each business will no doubt use out of these techniques, the frequency and nature of the marketing mix could vary considerably. It is important to take the time to carefully analyze data, consider the business goals, and determine the type of results desired before coming up with the right marketing plan.
You need to reach out through digital marketing for your business to grow. Keep in mind that digital marketing goes beyond sending a few emails and posting a few things on social media. You need to devote time, effort and plans to digital marketing to apply techniques and to see them work.
Continue to adjust and try new techniques to see your digital marketing improve. As it improves, you will see more traffic on your websites. As the traffic increases, you will see the profits and  business continue to grow and succeed.
Categorized in: Digital Marketing
LIKE AND SHARE THIS ARTICLE:
READ OTHER DIGITAL MARKETING RELATED ARTICLES FROM THE BRICK MARKETING BLOG: