Don't Be Afraid to Experiment in Digital Marketing
Written by Nick Stamoulis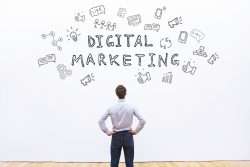 When it comes to digital marketing, there are two general ways of looking at it. First, you have the marketing tasks that you do on a consistent, regular basis, such as posting new content and participating in social media. These are the tasks that will form the foundation of your digital marketing plan. Then, there are the more experimental methods of promoting your business online, such as running an ad on a site you may have never tried advertising on before.
Sure, it is important to build a consistent and effective foundation in your digital marketing. However, you should also feel as if you have some room to experiment, as well. Too often, businesses pursue one or the other. In fact, some people fear experimentation. As long as your marketing foundation is laid, you shouldn't hesitate about experimenting. Here's more information:
Take Chances to Yield Results
Success or failure is only yielded by taking chances. If you refrain from trying something new and wish to stick to old marketing methods, you could be missing out. In fact, some of these new or experimental methods could become the new normal. If you try one of these new strategies on the early end of trend, you could experience greater benefits. The goal is to take risks in a controlled way, and always make sure your marketing doesn't depend on these tactics working.
Test Possible New Strategies
Testing is a significant part of digital marketing, and unless you test multiple options and see which one works for you the best, you can never market your product effectively on digital platforms. There are many options available for digital marketing, such as social media marketing, search engine optimization, etc. You can test every opportunity and see which one boosts your business' insights and sales the most. That way, this minimizes risk.
Learn from Failures
Often, digital marketers face failure instead of achieving their goals. The primary target to get a higher engagement for your business profiles and website is tough to get. You might fail once or twice, but every failure will teach you the rights and wrongs and the steps you need to avoid for future marketing. Ultimately, the losses will lead you to achieve the initial goal, which is to market your business more effectively.
Experimentation Leads to Succeed
It is true that your marketing should rely on experimental methods beyond your foundation. However, it is embracing some of these out of the box marketing methods that could push you higher than the competition. The time-tested marketing tactics can make up the bulk of your marketing strategy, while the experiments can either fail or succeed, depending one how well they do. While your success may not depend on these strategies working, when one of the strategies does work, your business will be that much more successful.
Don't be afraid to experiment with different marketing strategies. However, this should never take the place of your main, foundational strategies, such as content marketing and social media.
Categorized in: Digital Marketing
LIKE AND SHARE THIS ARTICLE:
READ OTHER DIGITAL MARKETING RELATED ARTICLES FROM THE BRICK MARKETING BLOG: