Get to Know Earned Media for Digital Marketing
Written by Nick Stamoulis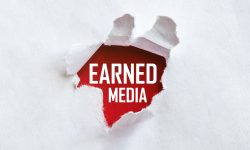 The phrase, earned media, refers to information about your company created by a third party and distributed through channels you do not control, such as posts created by users on various social networks, or if someone were to mention your company in a blog post. In other words, you didn't do anything to create or buy these mentions – the happened naturally. These mentions are a gift since you likely didn't plan for it. However, the mentions are of a high quality. The better your branding and digital marketing is, the more likely it is to happen.
Benefits of Earned Media
Consumers place a high level of faith in the recommendations of friends and family and in the content of unpaid social media postings made by influential individuals in the market. All of these helps boost your brand's reputation because they are earned media.
Earned media, which has various varieties, is often acquired over time. In many cases, these occur directly from public relations efforts and improved engagement.
Getting Media Coverage
You would be correct in associating media coverage with sponsored media to some extent. Paid media, such as commercials and sponsored content, allows you to direct consumers' messages about your company.
Earned media consists of positive mentions and articles about your brand in the media that you did not have to pay for. Examples of such publicity include having your goods featured in a holiday gift guide or your company's noteworthy actions featured on a television newscast.
Work in public relations (PR) is necessary in this case. Using press releases to reach out to the media is a good idea, but you can't control if or when your story will be covered.
SEO Can Result in Earned Media
SEO can also be considered earned media. When executing an SEO strategy, there is really no guarantee of its effectiveness. Yet, the strategy as a whole does help your digital marketing. When you do have a great presence organically, it is considered earned. Although paid search advertising can ensure better organic results, search engine optimization strategies can be implemented successfully to achieve these results.
Several components make up an effective SEO strategy, such as thorough keyword research and implementation of technological best practices. Among the most fundamental requirements is providing information that is both high in quality and relevant to your target demographic.
To make your content more discoverable and engaging for your target audience, you should focus on catering to their search queries and interests. This strategy will yield better results than simply targeting the most frequently searched terms, which may or may not be directly related to why people are interested in purchasing your goods.
Although you can't predict whether or not earned media will occur, you can do things to increase the likelihood that it will happen. This helps your digital marketing as a whole.
Categorized in: Digital Marketing
LIKE AND SHARE THIS ARTICLE:
READ OTHER DIGITAL MARKETING RELATED ARTICLES FROM THE BRICK MARKETING BLOG: