Is Display Advertising Right for Your Business?
Written by Nick Stamoulis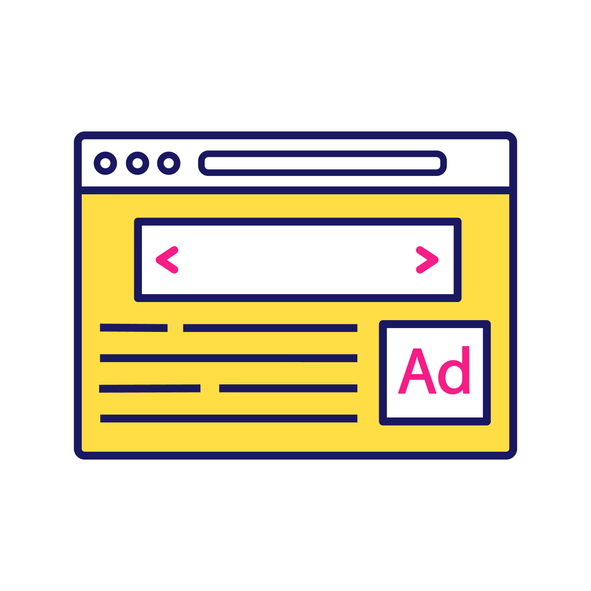 Display advertising is a form of digital advertisement using visuals that incorporate graphics and text, and Google facilitates it. The adverts appear on reserved areas of a social media platform or website as a banner ad in the form of videos, animations, logos, images or other similar graphics.
Display adverts aim to increase a landing page's click-through rate. This is achieved by tactfully combining attention-grabbing copy and striking imagery. They may include video content or imagery and use more than just words to develop a unique, snapshot ad.
This form of digital advertising is usually used to improve brand awareness or re-engage previous visitors or customers and win new ones. It is designed with a potential buyer in mind to develop their interest in your service or product.
But is display advertising right for your business? To answer this question, here is an illustration of how display ads help your business.
Benefits of Display Advertising
Although display advertisements usually experience low click-through rates, their effectiveness cannot be gauged through CTR alone. While also considering other metrics, display ads increase brand awareness and resolve to purchase. Here are some of the advantages of display advertising to a business.
1. Increase Brand Awareness
The display ads present your brand image while advertising. They provide better brand identification results than pay-per-click (PPC) ads. The user does not have to click on the ad to find out more about your brand. Display ads enable visitors to obtain information about the brand without redirecting to other pages or clicking the ads.
2. Effective Targeting
Display advertising only targets interested candidates. This is advantageous as it increases the conversion rate. It works the same way as social media campaigns, where you can develop a particular ad campaign and target your preferred audience or location.
Display ads generate leads and fetch a lot of potential customers. This is because display ads receive the customer targeting feature where only interested persons see your ads, which has a higher conversion rate than advertising without appropriate targeting.
3. Quantifiable Results
Your ad campaign provides daily reports by showing the number of clicks on your ads and their performance if you require tweaking your campaign settings. The ads offer essential information on brand awareness, traffic on your website, and several conversions and sales. It helps a business make appropriate decisions considering business needs to drive utmost engagements.
Display Advertisements Best Practices
Like other forms of advertising, the design of your ad will determine its effectiveness. Here are some best practices when it comes to creating display advertisements.
1. Develop Great Content
You should create and run ads on Google and focus on combining them with the right content. In addition to creating eye-catching graphics, your content should also be perfect as it pulls the visitor towards your display ads. In the digital marketing world, a phrase says that content is king, which is true. You need great content to advertise, make the adverts work, and provide desired results.
2. Develop Ads in Various Formats
When you develop and share your products, you will grow your business and boost your conversion rates. Use both text and image ads and split them into various ad groups. This will engage people who like images and those who prefer text to reap double profits.
3. Develop Simple Visual Ads
Online visitors prefer simple ads that are well-texted. But, including visuals as text ads generate lower click-through rates than visual ads. This should not deter you from creating text ads; add an image as it is necessary for modern ads to complete the display ad. Make the text straightforward and include a relevant image to describe the text better.
Types of Display Advertising
Display ads are in three main categories:
1. Retargeting
This delivers relevant ads to your target audience, considering particular user interactions and behavior. For example, you can create ads targeting users who have accessed your pricing page but are yet to order.
2. Acquisition
Acquisition type of ad campaign aims to drive direct sales and acquire new customers through affinity audiences, in-market audiences, and interest targeting.
Affinity audiences are harder to get as they are not always in research mode. However, based on their online profile, they may be interested in buying.
In-market audiences are visitors ready to make a purchase. Google identifies them through their search history. For example, someone reading TV reviews, looking for local electronics shops and supplier sites is probably looking to buy a TV.
3. Brand Awareness
This focuses on reach instead of conversion, and it needs careful planning. For brand awareness to be effective, it requires running for some time, which will cost you resources and time. The purpose of brand awareness is to reach many people while maintaining your budget.
The digital marketing space is in high demand of display advertisements. This article was meant to enlighten you on display advertising to help you decide if it's right for your business. If you are looking for an effective way to market your products digitally effectively, display advertisements would be a good way to do this.
Categorized in: Digital Marketing
LIKE AND SHARE THIS ARTICLE:
READ OTHER DIGITAL MARKETING RELATED ARTICLES FROM THE BRICK MARKETING BLOG: