Digital Marketing Programs Should Be Customized
Written by Nick Stamoulis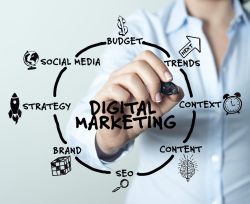 Even though digital marketing can be fairly formulaic, it is important not to fall into the trap of taking the same approach for every business. Each business is unique, and these differences need to be honored. You can't adopt the same digital marketing program for every business. Here are some things to keep in mind when it comes to taking into the uniqueness of every business when it comes to developing a program that will work:
B2C vs B2B
One big thing to consider is that business to consumer (B2C) and business to business (B2B) companies require a different approach when it comes to digital marketing, and this needs to be reflected in the plan. For one thing, B2B companies tend to have a longer sales cycle than B2C. Considerations like lead nurturing, customer profiles, social media, and even frequency of posting content all differ depending on the nature of the business.
Think about the consumer decisions you make on a regular basis and how those are impacted by marketing. For example, if you see a coupon code for your favorite online retail store on social media, you might click on the coupon and make a purchase. B2B doesn't work with this kind of immediacy, and this is just one of the ways that the two differ.
Goals
Every business has the basic goal of wanting to increase the bottom line. However, this is where the similarities end. Each business has its own unique set of goals. Whether it is to increase followers on social media, attract more traffic, post more content, or find new business opportunities, your goals should be considered when developing your digital marketing strategy.
After all, without clear goals, you won't know exactly what you need to in order to get you to your destination. Since no two businesses will have exactly the same goals, this means that no two businesses will have the same digital marketing plan. Outline your goals before you make your digital marketing plan, and your efforts will be a lot more effective.
Results
In a lot of ways, your results will determine what your plan will be. Before you get started, you should assess exactly where your digital marketing has brought you up until his point. Helps to know where things stand before you can know what you need to do in order to boost your success.
When developing a new plan, you should always take a step back and look at your analytics, such as organic traffic, all traffic, and a list of keywords that you may be ranking for. These analytics can help you determine what you need to do to get you the results you want. It can also help you discover what what is working so that you can know what to keep in your plan.
The bottom line is that you can't take a cookie cutter approach with your digital marketing. You need to take into account that your business is unique and that what works for one business may not work for you.
Categorized in: Digital Marketing
LIKE AND SHARE THIS ARTICLE:
READ OTHER DIGITAL MARKETING RELATED ARTICLES FROM THE BRICK MARKETING BLOG: