Top Digital Marketing Mistakes to Avoid
Written by Nick Stamoulis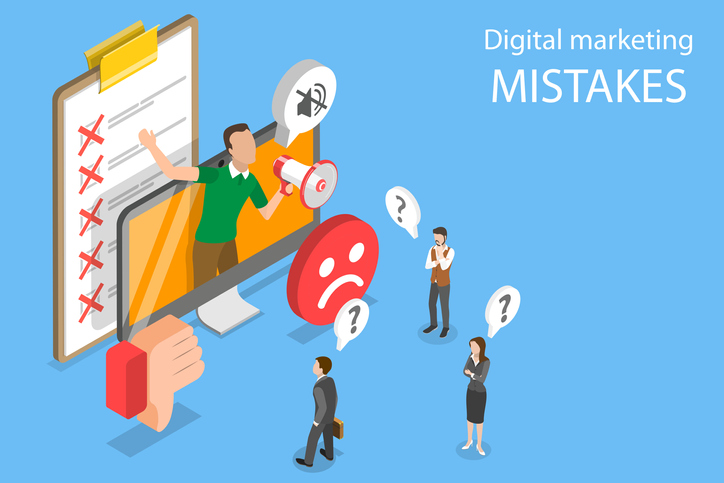 Digital marketing is the process of reaching potential customers and convincing them to buy a product or service. It is a strategy that most businesses use nowadays to promote their products.  The digital marketing industry has grown exponentially over the last few years. It has become one of the most important aspects of any business's success.
Digital marketing can be done through social media, search engine optimization, email marketing, and many other methods.  Every day there are more and more people getting online, which means that it's becoming increasingly important for businesses to have an online presence as well. Some digital marketing mistakes to avoid are:
Not Using Analytics Tools
This means that you don't know how well your campaign is performing which could lead to wasted resources or missed opportunities.
Analytics are a way for companies to measure their success in digital marketing. They are used to track how many people visit a website or social media page, what they do on that site, how long they stay on the site, etc. This information can then be used by marketers to improve their campaigns and increase conversions.
The most popular analytics tools are Google Analytics and Facebook Insights. These tools can be accessed through a company's website or through an app on their phone.
Analytics can be used for many reasons in digital marketing, such as:
Understanding customer behavior on your website
Predicting customer behavior
Identifying patterns in customer behavior (e.g., when customers are most likely to buy)
Analyzing which channels work best for your business
Ad Formats
It is a common misconception that different ad formats have the same effect on the audience, but in this case, it is important to try out different formats and see what ad type provides the best conversion rates for your business.
The use of different ad types in digital marketing is an important part of the marketing mix. It is important to know how to use each type of ad and how they can be used to achieve specific marketing goals. The following are some of the most common types of ads:
Display ads are the most common type of ads seen on websites. They can be shown in the form of banners or skyscrapers, or they can be shown as a pop-up ad when someone clicks on something else. They can also be text or image-based, sometimes with a video component as well. Display ads can be used for branding or lead generation purposes and have a high click-through rate.
Search ads are typically used by businesses with an online presence. These ads appear when someone searches for something related to your business on search engines like Google and Bing. These are also known as sponsored links, search engine results pages, or pay-per-click campaigns. Search Engine Advertising is a strategy that has been around for over 20 years and has been proven to produce results.
Not Tracking Cost of Acquisition
To understand the cost of acquiring a customer, take into account the lifetime value and average acquisition cost.
Cost of acquisition is the cost of getting a new customer. This can be done by marketing channels such as search engine marketing, social media, email marketing, and display ads.
The cost of acquisition is what it costs to acquire a customer. In digital marketing, it can be calculated by dividing the total cost of advertising by the number of customers acquired.
A popular way to calculate the cost of acquisition is to divide the total amount spent on advertising by the number of customers acquired in that period. For example, if Company A spends $10 million over a year and acquires 10,000 new customers during that year then their average COA would be $1,000 per customer ($10 million/10,000).
Digital marketing is the most cost-effective form of marketing and can be used to target any demographic.
The importance of digital marketing is that it can be used to reach a large number of people around the world. It has helped many companies grow their business and make more money.
Using these tips, hopefully, you can avoid these common marketing mistakes that many new business owners and entrepreneurs make.
Categorized in: Digital Marketing
LIKE AND SHARE THIS ARTICLE:
READ OTHER DIGITAL MARKETING RELATED ARTICLES FROM THE BRICK MARKETING BLOG: