Types of Digital Marketing Decision Making
Written by Nick Stamoulis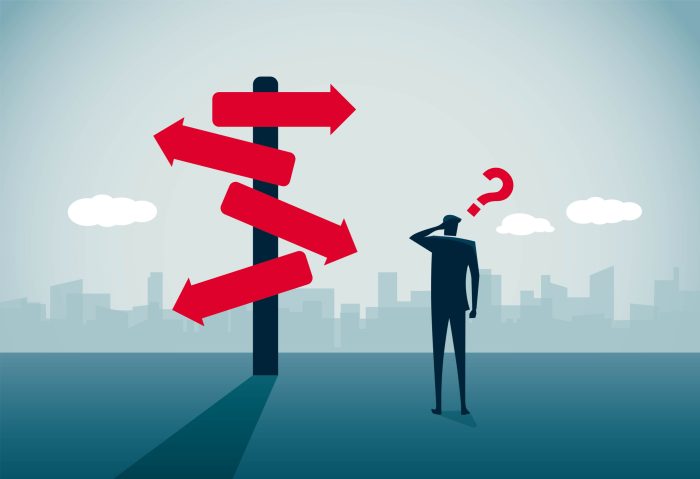 When it comes to digital marketing, there are many factors that can play into making decisions. Price, target audience, time investment, goals, and platforms are just a few things to take into consideration. Opinions are a dime a dozen and everyone thinks theirs are the best. It's difficult to know which direction to go with so many options available. When it comes to digital marketing, there are a few distinct decision-making types, each with its own pros and cons. Here's a deeper look into these decision-making types:
Data-Based Decision Making
Data-based decision making is all about using metrics, facts, and data. This type of data can be used to make decisions that align with business objectives and goals. Data is considered a marketer's best friend for good reason. Data is impossible to ignore. When working with data, you will get a clear look into how the past worked, or didn't work, for the business. Sources include, but aren't limited to, social media metrics, website analytics, product reviews, marketing KPIs (key performance indicator), online mentions (may include backlinks), and business impact metrics.
Performing an audit in various areas of your business can help you to make better decisions for the future. If data proves that a certain digital marketing strategy isn't working, you can eliminate that strategy. Remember that collecting data is only one piece of the puzzle. Data also needs to be analyzed, interpreted, and used in order to be worthwhile. One important thing to consider when choosing data-based decision making is that it requires a lot of monitoring for whoever takes on the job as it's not an off and on type of situation if you want it to be useful.
Gut-Based Decision Making
People are often told to "trust your gut," but can this truly work in marketing? You really can learn to include your gut feeling, or intuition, in your marketing decisions.  You may have a good instinct in your personal, social, and professional life. It may have backfired here and there though, and when it comes to business, you might not want to rely on gut-based decisions alone.
The good news is that there will be many times that you can back up your gut feeling with data. If the data clearly goes against your gut feeling, you may not want to proceed. If you have a gut feeling about something you've never tried before, it may be worth the risk and pay off. If it doesn't, you can change course. There is nothing wrong with making a gut-based decision now and then. Just make sure that it makes sense to your business and your goals.
Textbook-Based Decision Making
Textbook-based decision making is based on the knowledge that you learned in business school. While practices you learned are proven to work, the black and white nature might not always be a fit for your goals. The foundations of digital marketing that you learned remain true and trustworthy, but depending on your business, your content, social media marketing, marketing, and SEO will be customized. Every business will execute differently. If you co-mingle gut-based decision-making and data-based decision making with your textbook knowledge, you can create a plan that works for your business rather than trying to find a one-size-fits-all solution.
When it comes to making digital marketing decisions for your business, you want to consider things from all angles. For one area, a data-based decision might be most appropriate, but for another, you may choose a combination of decision-making types. Don't try to fit all decisions into one box when you can take advantage of different areas of knowledge and information.
Categorized in: Digital Marketing
LIKE AND SHARE THIS ARTICLE:
READ OTHER DIGITAL MARKETING RELATED ARTICLES FROM THE BRICK MARKETING BLOG: