Definition of Retargeting
Written by Nick Stamoulis
Retargeting, also known as behavioral retargeting or behavioral remarketing, allows online advertisers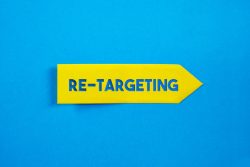 to target consumers based on their previous interactions with their website.
Imagine that a visitor comes to your website, but does not make a purchase. Retargeting is like a reminder to them that they have been to your website. This reminder often comes in the form of ads for your website on other websites. Retargeting keeps you front and center. The user will remember how they were just looking at your website recently and how they were considering purchasing your service or product.
How does retargeting work? Retargeting works by including a pixel (invisible to users) on your website. This pixel then tags all of your visitors and adds them to a list. When you set up a campaign and issue a pixel ID, the pixel will then track your visitors and where they are in the sales funnel. High on the list of visitors to be retargeted include those who have put items into a shopping cart and are close to checking out.
Four common practices of retargeting include:
• Site-based retargeting: site-based retargeting is when you serve ads to people who have visited your website in the past.
• Search retargeting: search retargeting serves ads to users who search one of your keywords in a search engine.
• Email retargeting: email retargeting is when you serve ads to people who open your emails.
• CRM retargeting: CRM retargeting serves ads to people with only a mailing list or email list.
What are the benefits of retargeting? Retargeting has a number of benefits including, but not limited to the following:
• Retargeting increases your brand awareness: Studies show that an individual will see seven impressions of your brand before they build up trust and will then take action (purchase something or sign up for something). By retargeting, you speed up the process a bit because they are regularly seeing your brand and remembering it. When someone continually sees ads for your brand, they begin to feel like they know you better.
• Retargeting will help generate more sales: An individual who has been to your website before had at least a little interest in what you have to offer. By being reminded of this often, they are more likely to return and complete a transaction.
• Retargeting is an effective digital marketing tool: Retargeting is not a fad that will come and go within a few years. As technology advances, so does retargeting.
• Retargeting is cost effective: While most forms of advertising will be successful, to varying degrees, retargeting reaches people who have been to your website once and started to get a feel for who you are. The chances of them returning after seeing more ads for your website are high.
Once you understand how retargeting works, its effectiveness becomes clear. Retargeting is not a new method of advertising and remains strong. Retargeting can help you increase your brand awareness as well as your conversions.
Definition of Retargeting Sources:
Categorized in: Digital Marketing Glossary
LIKE AND SHARE THIS ARTICLE:
READ OTHER DIGITAL MARKETING RELATED ARTICLES FROM THE BRICK MARKETING BLOG: