Definition of Cost Per Order (CPO)
Written by Nick Stamoulis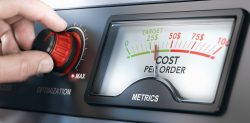 Cost per order (CPO), also known as cost per acquisition and cost per purchase, is an important part of many web-based businesses. Cost per order is the cost of internet advertising or marketing required to acquire an order. If the main goal of an ad is to create sales, cost per order is the preferred model. The cost per order model is commonly used as a pricing model for internet advertising.
The cost per order price is calculated by dividing the marketing expenses by the number of orders the company prepares. This model can be used to evaluate the effectiveness of a specific type of marketing. It is also a good model to figure out what type of marketing works best with the target consumer demographics.
What makes the cost per order important? The cost per order is a good way to evaluate the success of ad campaigns you run. If you spend a couple hundred dollars for your ad campaign, but it only leads to a few conversions, this is a sign that your campaign might not be as strong as it could be. Cost per order is easy to calculate and can be the ideal model for comparing the success of individual marketing campaigns you run.
For an advertiser, there is zero to little risk in using the cost per order pricing model. An even greater benefit is that they can calculate exactly how much to pay per defined action. This model also works for anyone wanting to run an ad banner for an unlimited amount of time as there are no clicks or impressions required.
Cost per order figures can have an effect on many areas of an internet company.
A few of the decisions that can be made based on cost per order figures include:
product cost
employee salary and benefits
types of equipment purchased and used for product production
shipping methods and cost
other types of marketing that can be implemented
Cost per order can be a great way for startup businesses who might not have a lot of money to spend on advertising in the beginning. This kind of advertising will get your brand noticed and translate into conversions and sales, which will give you additional options for advertising or to spend within the business in other ways.
There is not much of a disadvantage to using the cost per order method, but it is suggested to take the information with a grain of salt. Numbers can be misleading, so you should always leave yourself with a bit of a safety net. Other than that, cost per order is a very important part of an internet business.
Advertising should be viewed as a way to compensate for your recent investments. The success of your business can be traced back to how you advertise your products or services. Having a good understanding of your cost per order will help in the overall success of your business.
Cost Per Order (CPO) Definition Sources:
Categorized in: Digital Marketing Glossary
LIKE AND SHARE THIS ARTICLE:
READ OTHER DIGITAL MARKETING RELATED ARTICLES FROM THE BRICK MARKETING BLOG: