Definition of Branded Keywords
Written by Nick Stamoulis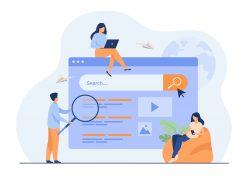 Branded keywords are words and phrases that are associated with a service, product, or brand. Branded keywords are used by individuals who are searching for a specific business or brand through social media or a search engine.
The most common types of branded keywords include:
Brand Names: Brand names include ones you likely see all the time and are familiar with such as: Nike, Google, Tylenol, Apple, etc.
Product Names: These keywords are still important though they are not the same as brand names. Product names, also called product lines, mention a specific product or brand. The mention of a product name will often automatically make people think of the brand. For example, if you were to hear the name Geek Squad, you would think of Best Buy. If someone mentioned an Egg McMuffin, you would think of McDonald's.
Brand Long Tail Keywords: Brand long tail keywords are when someone does a search for not only your brand, but something specific they are looking for. An example might look like this: "Your brand color blue size 6." This type of search can prove informative because it might suggest the consumer has bought the item before or gotten a recommendation from someone or seen your ads.
Something else that you might not have considered when it comes to branded keywords is a product that has intentionally misspelled its name. This was not a happy accident. While a company like Krispy Kreme Doughnuts may seem like it was done for fun and maybe the enjoyment of alliteration, it actually goes deeper than that. They have made themselves stand out with their misspelling. They have become a memorable brand and in turn rank high in search results.
Why are branded keywords important? Branded keywords play an important role in search engine optimization (SEO) and your product, service, or brand's website ranking. By monitoring keywords you can improve your marketing. You will gain a clearer insight into what your customers and potential customers are looking for when searching for your brand or shopping around for something similar.
Tracking your keywords and social media interactions (through hashtags and mentions) can help you discover how you are doing in comparison to your competition. Not everyone using social media will use hashtags or mentions, which is why keeping an eye on keywords is important.
Branded keywords will also give you an idea of who your customers are. You may discover that the majority of consumers choosing you are within a certain age range, profession, or even geographical location. These insights can help you to market your brand in a way that appeals to them.
Branded keywords should be added to your marketing plan to help improve both your sale and your brand awareness. Non-branded keywords can be important as well. They can introduce an individual to your product or service initially. These are keywords that don't include your brand's name, but may relate to your brand in some way. Once an individual becomes aware of your brand, they will begin searching with your brand's name when searching for what they need.
Branded keywords allow you to increase traffic to your website pages and translate into conversions.
Branded Keywords Definition Sources:
Categorized in: Digital Marketing Glossary
LIKE AND SHARE THIS ARTICLE:
READ OTHER DIGITAL MARKETING RELATED ARTICLES FROM THE BRICK MARKETING BLOG: