Data Overcomplicates Digital Marketing
Written by Nick Stamoulis
I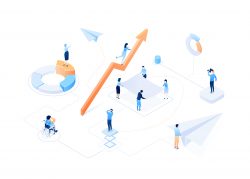 t's true that digital marketing has a lot of steps associated with it, but that doesn't mean that it has to be complicated. In fact, the exact opposite is true. Sometimes, the best plans are the simplest ones, and you want to implement a digital marketing strategy that is well thought out, but that is also simple to execute. You don't want to make things too complicated because it could do more harm than good.
Are you wondering if your digital marketing strategy is too complicated? If so, data could be to blame. Here are some things that can help you figure out if you are too fixated on data or not:
More Data Isn't Always Better
It's true that you need data in order to develop a good strategy, and to also determine if your strategy is working. However, there is such a thing is overdoing it. You should approach data from a big picture perspective, otherwise you could end up spinning your wheels. At the end of the day, you need to make sure that you inject a human element into your program. This is true for everything that you do in your digital marketing, including social media, content, and even when performing an SEO audit. Data should enhance the process, not hold you back, and you hold yourself back if you spend too much time worrying about it.
Data Won't Show You the Intangibles
The main thing to remember when it comes to digital marketing is that data won't show you the intangibles. This is an especially important concept to remember when writing content for your brand. You see, in order for content to be effective, it needs to appeal to your audience on an emotional level. If you can use emotion to connect with your audience, then the content will be more effective. This is true no matter what form it takes, such as website copy, articles, social media posts, and any content that your company might need. You can't determine the intangibles through data. This is just something that you need to think through for yourself.
It All Comes Down to Your Audience
The main thing to remember is that it all comes down to your audience. Your digital marketing program needs to attract the right people, and once they find your brand, you will want them to stay. Here's where being too obsessed with data can really backfire, though. If you are too focused on data, your content may feel stiff and robotic, and your audience will be turned off. Pleasing your audience should be your number one priority, and it won't be if you spend too much time with the numbers. However, that isn't to say that you can't look at data at all. You can, but just remember that you need to take it with a grain of salt.
Remember that data is important, but it isn't everything. You need to make sure that your audience is happy with your digital marketing efforts, otherwise it will all be for nothing.
Categorized in: Digital Marketing
LIKE AND SHARE THIS ARTICLE:
READ OTHER DIGITAL MARKETING RELATED ARTICLES FROM THE BRICK MARKETING BLOG: