How to Know Which Content to Create for SEO
Written by Nick Stamoulis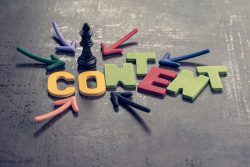 We all know that creating excellent content is a vital part of today's SEO strategies. When we create an SEO plan for all of our full service B2B SEO clients, coming up with a plan for content marketing is always a vital part of our initial planning strategies. We also understand that you can't just write any old article and expect it to enhance your SEO efforts.
In other words, content needs to be created not only to benefit the search engines, but also bring value to the audience. By approaching content creation strategically, it is possible to please both. Your content needs to be both relevant and useful. Here are some strategies that will give you insight as to how to create content that will enhance your SEO program that also pleases your audience:
Consider Your Content Goals
Before you get started planning your content, you need to have a clear idea of what you want to accomplish. Goals include increasing search engine traffic, generating leads, and increasing engagement on social media. Your goals will play a large part in determining the types of articles you'll publish, as well as how often you will publish them. For instance, if your primary objective is to generate leads, you'll need to write about topics that address issues that your potential customers may have that will eventually lead them to your articles.
If you want to increase search engine traffic, the topics need to rank well in the search engines and also provide useful information on topics people need to learn about. A good content marketing strategy, however, will likely seek to meet several goals, which is why you need to plan on including content that will satisfy every stage of your customer life cycle.
Take a Look at Existing Content
Before you can really start creating new content, it's important to see what you already have so that you can assess where the content gaps are. Generally, you don't want to create your new content plan without understanding exactly what the website truly needs. Not only that, but if your website is filled with content that doesn't add value to the website or your visitors, this could negatively impact your website as a whole. Performing a content audit can help you discover thin content, determine which pages need editing or expanding, and discover any topics that need to be addressed in the future.
Make Sure it Follows Google's Rules
In addition, you need to make sure that your content remains Google-friendly and avoid issues such as duplicate content. According to Google, Duplicate Content is referred to as, "…substantive blocks of content within or across domains that either completely match other content or are appreciably similar." Whether the duplicate content was created on purpose or not, it still needs to be addressed.
This is something that should be uncovered during the content audit. Once you identify it, you need to figure what to do about it. Be careful if you decide to delete the duplicate content. Make sure that you redirect the duplicate either to a similar article or to the home page. If your website has broken links, it could negatively impact SEO.
Content is an important part of your SEO campaign, but only when it is done right. By setting goals and performing a content audit, exactly what you need to do to make your content as effective as possible.
Categorized in: Content Marketing
LIKE AND SHARE THIS ARTICLE:
READ OTHER DIGITAL MARKETING RELATED ARTICLES FROM THE BRICK MARKETING BLOG: