Keep a Consistent Message Across All Platforms
Written by Nick Stamoulis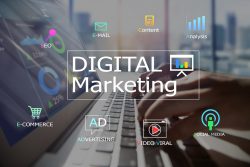 When it comes to digital marketing, there are many different platforms that you could be operating from. Whether you are posting content to your website, sharing one of your product videos on social media, or operating a pay per click advertising campaign, you need to make sure that your messaging is consistent. If you maintain a certain persona on your website, for example, you wouldn't want to convey a different message on another forum, like social media, because that would just confuse people.
Is your digital marketing messaging consistent across all platforms? Here are some insights that can help you determine how to approach this:
Platforms May All Be Different But Your Messaging Shouldn't Be
On the surface, it may seem as if there are too many digital marketing platforms out there, and you aren't sure how you can possibly utilize them without confusing your audience. Making sure your messaging is consistent offers an important way to make sure people respond well to your business. If your messaging isn't consistent, this could turn people off and frustrate them as they try to determine if your business is a good fit for them. While each oof these platforms might be different, that doesn't mean that you can't make these places your own. This is done through careful planning and branding.
Branding Helps Solidify Your Message
No matter what type of business you have, you need to solidify your branding before you can get anywhere. What is the look and feel of your website? Do you have a well-designed company logo? Have you given little details, such as your company's writing style, any thought? These are all things that can help increase your branding and also help make your messaging clear. A key element of branding is that these elements are things that you will apply across all the digital marketing platforms that you are using. Even though it might be time consuming to develop your brand's look and feel, the results will be worth it.
Make Sure You're Attracting the Right Audience
In order to make sure your messaging remains consistent, you need to make sure that you are attracting the right audience. If you aren't, your company's messaging could be confusing and a total turnoff. Researching your audience segments fully isn't enough. Constant and careful attention is needed is that you can determine if you are attracting the right people to your business. There are many ways to measure this, but the most effective is to assess whether or not you are actually getting in a lot of new business though your digital marketing efforts.
If you aren't attracting the right audience, this will also need to be explored. What could be the cause of this lack of business growth? If this is the case, chances are pretty good that you aren't connecting your business with the right people. Examine your marketing plan and determine if any changes meed to be made.
It is so true that you need to keep your marketing messaging consistent across all platforms. Otherwise, your audience may get confused, which would be counterproductive.
Categorized in: Digital Marketing
LIKE AND SHARE THIS ARTICLE:
READ OTHER DIGITAL MARKETING RELATED ARTICLES FROM THE BRICK MARKETING BLOG: