Competitive Analysis for Digital Marketing
Written by Nick Stamoulis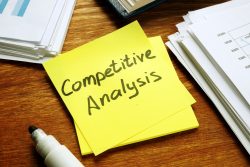 Performing a digital competitive analysis is essential for effective digital marketing. By understanding your competitors' online presence, you can learn what strategies and tactics to attract customers and adapt your digital marketing plan accordingly. Keep in mind, however, that just because your competitor is doing something doesn't mean that it is a good fit for your business. It is important to know what they are up to, but this might not be the right approach for you. You have to use your judgment. Here is more information about this:
Get to Know Digital Competitive Analysis
Digital competitive analysis is a process of research and evaluation conducted to understand your competitors' online presence. This includes analyzing their website, social media channels, and other digital marketing assets. This analysis aims to identify any strengths and weaknesses in their digital marketing strategy so that you can adapt your plan to better compete in the market. It's something that should be a regular part of your process for digital marketing, but it is also important to note that this isn't something that should be overdone.
Here are some reasons why it could really help your digital marketing:
By understanding what your competitors are doing online, you can learn from their successes and avoid making the same mistakes.
A competitive analysis can help you identify any new opportunities or threats in the market to adjust your plan accordingly.
By understanding your competition, you can make more informed decisions about your digital marketing strategy.
Understanding what is working for your competitors and adapting these strategies for your own business can help improve your return on investment (ROI) from digital marketing.
Performing a Competitive Analysis for Digital Marketing
There are several steps involved in performing a digital competitive analysis. You don't necessarily need to do all of these, but you should at least determine if each step has value for your business. Remember that the goal is for you to understand enough about your competitors to know what the digital marketing environment is for your industry. From there, you can make decisions about how to adapt it.
Find competitors. This can be done by searching for businesses in your industry or niche online and evaluating their online presence.
Analyze their websites. This includes evaluating design, content, user experience, and SEO.
Look at social media. This includes evaluating their number of followers on social media, engagement, and their social content strategy.
Identify assets. Look at their digital assets to identify strengths and weaknesses in their digital marketing strategy. You can use this information to adapt your plan and improve your chances of success in the market.
As you can see, digital competitive analysis is a valuable process that can help you understand your competition and make more informed decisions about your digital marketing strategy. If you are not already performing this type of analysis, we recommend that you consider doing so. It can be a valuable addition to your digital marketing arsenal.
Categorized in: Digital Marketing
LIKE AND SHARE THIS ARTICLE:
READ OTHER DIGITAL MARKETING RELATED ARTICLES FROM THE BRICK MARKETING BLOG: