How Businesses Can Use Social Media
Written by Nick Stamoulis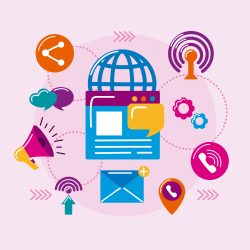 Social media are extremely useful in many different aspects of the business. Social media is becoming more valuable as the world moves forward. Before the Internet and social media, businesses had to invest a lot in television advertisements to build an audience for their product or service. Social media allows a company to create content and connect with customers through creative and interactive posts. These posts enable customers to feel a personal connection with the company that they otherwise wouldn't be able to have without investing hours in each campaign. Here's more information:
Used for Digital Marketing
Social media is a great way to market businesses. It allows companies to spread their company name and product or service information through interactive posts such as tweets, Facebook posts, Instagram photos, and so on. They can also use it to create more of a connection between the business and its customers. For example, one of the most used social media tools is a Twitter account, where the company will tweet out random things that they're doing to make their customers feel as if they are connected.
Connect with Customers
Social media is a great tool to use to help connect with customers. For example, if someone tweets at a company asking a question or even having an issue with their product or service, the business can immediately (depending on the time of day) tweet back and solve the problem without even having to pick up the phone. Social media allows customers and businesses to have open communication 24/7 without ever having to be physically next to each other. However, this should be its only purpose. It is simply a tool that can be used to help connect with customers.
Facilitate Better Interaction with People
Social media allows a company to interact with customers more than they would if they used traditional marketing methods. In some cases, the interactions that happen on social media can be too good to pass up. For example, one of the most popular ways companies use social media as a part of their marketing is by creating contests and other giveaways for people to get something for buying their product or service. These types of interactions allow the customers to connect with the brand actively and increase the chance that they will purchase something from the company later.
Helps with Company Branding
Social media allows the company to spread its name not only through the things it says but also through photos, videos, and other forms of media. The more the company shares its name and products, the more chances it has to find more customers. It is because people will be looking up information on their product or service and who they buy from to make their decision. It will also boost the company's reputation, which is always great. This helps brand the business.
Social media is a great tool that companies can use as a marketing strategy. It is not just for networking but can be used to help the company grow. It can increase sales and decrease the cost involved with growing the business. The main thing a business should consider when using social media is how well they can use it to gain customers and how well connected they are with those customers.
Categorized in: Social Media
LIKE AND SHARE THIS ARTICLE:
READ OTHER DIGITAL MARKETING RELATED ARTICLES FROM THE BRICK MARKETING BLOG: