Branding is About Building Trust
Written by Nick Stamoulis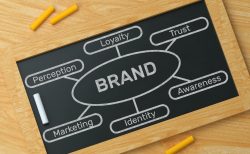 We know a distinct company when we see one. Think about how recognizable popular brands such as Disney or Coca Cola are. When mentioning these common brands, images flash in our minds. Maybe we saw the distinct mouse ears as soon as the name, "Disney" was mentioned. Perhaps we envisioned the cursive script of the Coca Cola logo. Both of these companies expended a considerable amount of resources in order to get us to the point where their brands were a household name.
Every day businesses don't need to go through the same lengths that these larger brands have gone through, but they can adopt elements of their strategies into their common marketing campaigns. Digital marketing strategies such as writing blog content, posting on social media, and even pay per click advertising can all go a long way to establish your brand. In fact, these activities also build trust, which means that brand building and trust go hand in hand.
Authenticity Wins People's Trust
What do people see when they visit your website? Are they greeted with a minimalist website that hardly has any information on it? Is your contact information buried deep within the site and difficult to find? Can people immediately tell what you do? People love brands they can trust, and this trust can't be achieved if you aren't forthcoming about what your business is and what your origins are. People want to do business with brands they trust, and you won't be trustworthy if you didn't provide them with any helpful information!
A Recognizable Brand is a Trustworthy One
When people recognize your brand, it helps develop a sense of trust. For example, people are more likely to hire a company to perform a service if they have a recognizable presence, either from getting referred or by finding a lot of information about the company online. You're missing an opportunity if you don't focus on making your brand recognizable. You should have a presence on social media, you should be regularly posting content, and you should also take the time to develop a good link portfolio through ethical, consistent action. When people see your brand in various places, this helps build trust because you are accessible to them.
Pay Attention to Branded Search
With that being said, branded search is an absolutely crucial component of your online marketing. What happens when people search for your brand online? Ideally, all, or at least most, of the results will pull up something that relates to your brand. This includes your website, social media profiles, various pages on your website, business profiles on other websites, and other elements. If your brand shows up in multiple ways when a search is performed online, this automatically instills a sense of trust. People are far more likely to do business with a company that is recognizable and trustworthy.
There are several components to branding, and building trust is one of them. People are far more likely to do business with brands that they trust!
Categorized in: Digital Marketing
LIKE AND SHARE THIS ARTICLE:
READ OTHER DIGITAL MARKETING RELATED ARTICLES FROM THE BRICK MARKETING BLOG: