Startups: Wait Until You Get Established before Hiring a Digital Marketing Agency
Written by Nick Stamoulis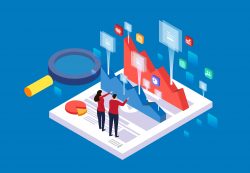 As a startup, it is only natural that you want to start building brand recognition from the beginning. Creating brand awareness is crucial to business success as you need customers to purchase your products or services. It is essential to focus on your digital marketing efforts, as they can make or break your business.
Despite the fact that digital marketing is important, you might want to hold off on hiring an agency to help you with your marketing. In fact, in order to get the most out of your relationship with the right digital marketing agency, you should do the initial marketing yourself and give your business more time to get established. Here are some thoughts:
Focus on Building Your Business
As a startup owner, your main priority when you first get started is to build your business the right way. You will want to focus primarily on the day to day operations of your business. You also want to make sure you are taking care of your customers, and creating products and services that people want. Sure, you will need to get the world out, but your main goal at the beginning is to make sure your business is viable. You don't want to hire a digital marketing agency right from the beginning because you are better off focusing on building your business as a whole, instead.
Make Sure to Perform Market Research
Your research when starting the business may not be conclusive enough to market your brand. However, it takes time to gather this data. You don't want to hire a digital marketing agency too soon into the process because you won't know enough about your customers in order to maximize your progress. This will ultimately result in some wasted time and money. In other words, you need to allow enough time to pass to have enough data for the agency to use. This data is crucial because it will help them formulate the strategy they will use to market your business.
Cut Down on Marketing Costs as Your Business Grows
Marketing demand increases as your business grows, and so do the marketing costs. When this happens, it could finally be the right time to outsource. For example, it may be costly for your business to maintain a permanent marketing team. This can be a bit daunting for startups, especially when dealing with cash flow problems.
You may not have the funds to recruit and maintain a marketing team, thus calling for you to bring in a marketing agency. You can hire digital marketing professionals to reduce the involved marketing costs and stick to your budget. In tis case, it is much easier to shop around and look for a digital marketing agency that will help.
When it comes to startup, you want to make sure that you are building your business first. If you try to hire a digital marketing agency from he beginning, you might be wasting your money. It is much better to wait for your business to be more established.
Categorized in: Digital Marketing
LIKE AND SHARE THIS ARTICLE:
READ OTHER DIGITAL MARKETING RELATED ARTICLES FROM THE BRICK MARKETING BLOG: