Reasons to Keep B2B SEO Content Evergreen
Written by Nick Stamoulis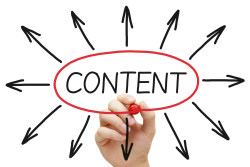 A B2B SEO campaign is nothing today without a strong content marketing component. Content is required because it's essentially what can be optimized and then found in various outlets online, including within the search engines. B2B online marketing content can take many formats and the primary purpose should always be to inform target audience members and create content that is beneficial for them.
For traffic generation purposes, it's recommended that the majority of online marketing content be "evergreen", meaning that it will be relevant for a very long time, maybe always. Evergreen content is the opposite of newsworthy content that has a limited shelf life once the news isn't "new" anymore.
Here are reasons why the majority of B2B SEO content should be evergreen:
It can be re-used
If the content that you are publishing is time-sensitive it can be published once, but that's it. It wouldn't make sense to share it again a few months later as the content is "old news". However, evergreen content can be used multiple times in different formats. For example, a strategy that we like to use is to share our blog posts within our opt-in email newsletter. By mostly writing evergreen content in the blog, we can share a post that was written in March in a newsletter that is sent out in July and the content is still applicable.
It can be used as inspiration for other content
Many organizations immediately think "blog post" when we talk about online marketing content. And maintaining an active business blog is essential for B2B online marketing. However, there are so many different ways to create and publish content on the web. You can publish videos, infographics, eBooks, etc. It can be difficult to brainstorm new topic ideas so it's recommended to go back and revisit content that you've already published and just make some tweaks or add new information when turning it into something else. If all of your content is news content it wouldn't make sense to use it as inspiration for a video a few months down the line.
It can be referenced over and over
For SEO, one of the goals of online marketing content is to generate inbound links. If you publish a great piece of content it's likely that in addition to getting noticed by target audience members, they will also share it within social media, on their website, within their own content, etc. Evergreen content can generate these kinds of links long after the piece was originally published.
If you are aiming to publish mainly evergreen content, you might want to think about leaving the dates off of it. Even if the content is still relevant, if the date is there and the reader knows that it was published 3 months back it might be a turn off. Of course, no dates can also be frustrating to the reader. So, it's best to keep your target audience in mind and make a decision that is most in line with their preferences.
Categorized in: Content Marketing
LIKE AND SHARE THIS ARTICLE:
READ OTHER DIGITAL MARKETING RELATED ARTICLES FROM THE BRICK MARKETING BLOG: