Katherine Tsoukalas – Marketing Manager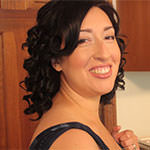 Katherine is the Marketing Manager of Brick Marketing. In addition to assisting with marketing tasks, she is also a seasoned writer who uses her skill to help meet the ongoing content needs of clients.
Katherine has been a professional writer for over a decade. She is well versed in all forms of writing, but her particular specialty is writing online content. She regularly shares this expertise on the Brick Marketing blog and writes for Brick Marketing other owned web properties.
Katherine has a B.A. in English from the University of New Hampshire. Prior to joining the team at Brick Marketing, she was a freelance writer. In addition to publishing her work in magazines and literary journals, she also completed projects for her clients.
When she isn't working, she pursues one of her many hobbies. These include listening to music, cooking, and reading. She is also a Master Herbalist and has her Diploma in Herbal Studies from the American College of Healthcare Sciences.