Google Updates Webmaster Tools, Offers New Search Analytics Feature
Written by Nick Stamoulis
Recently Google rolled out a new feature in Webmaster Tools, Search Analytics. While still in Beta, this feature is supplementing Search Queries and is giving site owners a much better way to find important data directly from their Webmaster Tools account.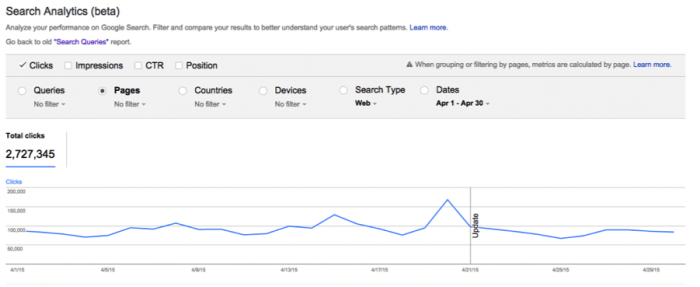 As you can see, the new Search Analytics give site owners the ability to not only see what search terms are driving traffic to their sites, but also what pages are pulling in the most traffic directly from Google. By clicking on any one page, you get an in-depth look at traffic to that page. You can then compare the performance of that page to any other page on your site, which is a wonderful way to see how old content is comparing to new pages on your site. Remember, the age of your content is one factor (among many) that affects how well your content does organically. It doesn't matter how well-written or user-friendly your new piece of content is, it still has to earn it's place in the SERPs. Old (and even ugly) looking content could still be doing better than it's new and improved counterpart simple because it's old and trusted.

But the best is yet to come! By clicking on QUERIES you can see what keywords drove traffic to the specified page on your site. In the regular search queries feature you had to start with the search feature and then click through to the pages Google was pulling. But now this new feature helps replace a lot of the data lost when Google started hiding keyword data in Google Analytics under "Not Provided." For years site owners have been bemoaning the loss of this data, because it made it that much harder to understand how your audience was searching and how your content was doing for those search terms. But with this new feature all (close enough anyway) the missing data is back in your hands! It may not be everything you wanted and more, but it's certainly a huge step in the right direction.
You can still see top performing search queries at large, but now that you can start at a page level and THEN drill down to the search terms makes it's a lot easier to pull the whole picture together.
Another great feature is that it breaks down traffic by DEVICE, so you can get a better sense of how much mobile traffic your site is getting. On 4/21/15 Google pushed a mobile algorithm update live, geared towards helping mobile-friendly sites in the mobile SERPs. While you may not think mobile is that big of a deal, it's important to know that Google does and your website needs to catch up, especially if Webmaster Tools is showing you that yes, a good chunk of traffic is finding your site through mobile devices.
We highly recommend you start poking around in the new Webmaster Tools Search Analytics feature (if you can) and get used to the new format. Google giveth, and Google can taketh away, so it might not hurt to get all the information you can just in case Google decides to go back to the regular Search Queries setup.
Categorized in: Search Engines
Like what you've read? Please share this article