Where Are Your Visitors Coming From?
Written by Nick Stamoulis
For the most part, the goal of any SEO program is to drive more organic (Google, Bing, Yahoo) traffic to your website. But SEO isn't just about getting more visitors from the search engines, as counterintuitive as that may seem. Think about it–content you create for other sites helps build referral links, and those referral links can drive quality traffic over time. For instance, one of our clients got a link from a Forbes.com blog almost a year ago and it STILL drives a handful of visitors to the site each month. The content you create also fuels your social media activities, and social channels are another great source of traffic. For B2B brands, LinkedIn can be an immediate source of traffic as sites wait for their organic traffic to catch-up.
As part of your usual SEO reporting, it's important to look at your traffic sources each month and see what has changed over time. Take a look at these two traffic reports from one of our client's sites. One is from August 2013 and the other is from January 2014. Notice the differences?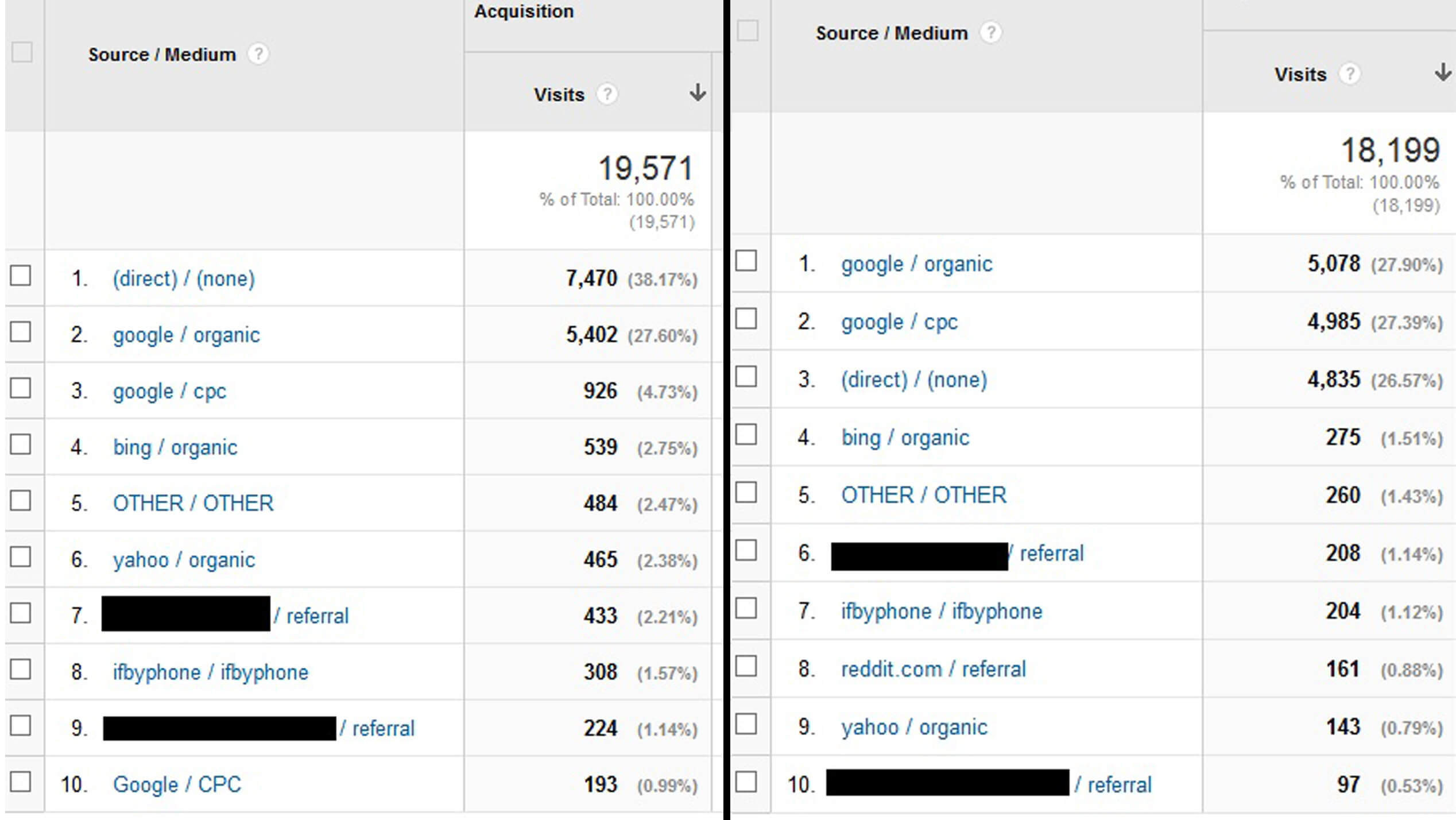 Back in August direct traffic was the biggest traffic source. Keep in mind direct traffic can also include visitors from emails that didn't have unique tracking codes, visitors that come from URL auto-completion, or traffic from bookmarked pages. But a few months later direct traffic has slipped down to the #3 spot (maybe those email URLs were finally customized?). Organic traffic remained fairly consistent, but in January it was the main source of traffic to the site. But also notice that a whole new source of traffic, Reddit, appeared in January. And obviously their PPC investment went way, way up.
It's important you know where your traffic is coming from so you can fine-tune your SEO campaign. For instance, seeing Reddit appear in the top 10 sources of traffic in January tells me that our social promotion efforts are working fairly well. Which blog posts are getting the most traction on Reddit? That can help us create more content for our client that sits well with that audience. Obviously traffic from PPC has skyrocketed, so maybe we take a look at how well that traffic is converting. If the site is getting 4,000 visitors from PPC but no solid leads maybe they are bidding on the wrong keywords and we need to adjust their AdWords campaign. After all, why pay for clicks that don't help you grow your business?
Organic traffic is fairly consistent when comparing August to January, but what is organic traffic had dropped 30%? That would mean something was seriously amiss with their organic presence. Did the site get penalized somewhere in there, either by an algorithmic update or a manual action penalty? Were some of the pages deindexed somehow? On the flip side, if organic traffic jumped by 30% in the same time it's important to learn which pages are performing well. Are various blog posts doing really well organically? Are service pages working their way up the SERPS, capturing more traffic along the way?
Knowing where your traffic comes from is so important for fine-tuning your SEO program. If you keep track of your traffic sources you can better gauge the health of your SEO campaigns, better focus your content marketing efforts, and evaluate your social media marketing programs.
Categorized in: SEO
Like what you've read? Please share this article