What Does B2B Really Mean?
Written by Brick Marketing
At the MarketingProfs B2B Marketing Forum, held here in Boston in early October, Seth Lieberman of SnapApp had a great point during his presentation that really stuck with me. "B2B does not mean 'boring to boring.'" Since the conference catered to B2B marketers, who don't get to typically work in the "sexy" industries (food, fashion, gadgets, travel, etc.), really hammering home that B2B marketing isn't boring or bland or pointless was a big goal for many of the speakers. Even though "B2B" stands for "business to business," those businesses are made up of and run by people. And those people want to build relationships with other people; that means connecting to them emotionally and telling a story. So if you think of your B2B marketing as nothing but "boring," you're missing a huge opportunity!
I get it. Trying to sell security systems or processors or office supplies isn't nearly as exciting on the surface level as selling clothes, home decor, or high-end speakers. People aren't exactly falling over themselves to share information about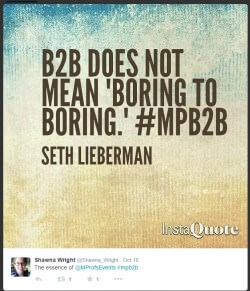 machining or industrial packaging (even if they do live and breathe in that industry) because it's hard to feel emotionally connected to those topics. But that doesn't mean it's impossible! B2B marketers have to be even more creative than some of their B2C counterparts because their products don't just sell themselves. For instance, have you seen the IBM Watson commercials? They are selling business intelligence but in one of the commercials they explain how a chef can use business intelligence data to create new and inventive meals. IBM found a way to connect business intelligence, which isn't the "sexiest" of B2B industries, to something people really do love no matter what they do–food! If you were someone looking to invest in BI software wouldn't that commercial connect with you on an emotional level? If chefs can use this data to help them, imagine what my business could do with it! IBN took something boring and complicated, data, and made it something people want to learn more about.
The CDC realizes that everyone knows they are supposed to be prepared in case of an emergency–hurricane, floods, snowstorms, etc. But knowing they are supposed to be prepared is a long way from actually being prepared. So instead of putting out yet another pamphlet about preparing for a tornado they created the Zombie Apocalypse Survival Guide. They set out one tweet promoting the guide and the server hosting the blog crashed nine minutes. The tweet resulted in 70,426 clicks and generated 34,714 unique tweets. Twitter also generated more than 1.1 million views of the blog post. CDC's Emergency Preparedness and Facebook page gained more than 7,000 fans in the three weeks following the zombie apocalypse blog post. Dr. Ali S. Khan, director of the CDC Office of Public Health Preparedness and Response, was invited to speak at the Holy Land for zombie fans, ComicCon in New York. The CDC found a way to make emergency preparedness cool and relevant by tapping into the zombie cultural phenomenon.
The key to making B2B interesting and fun (for both you and your audience) is to think outside of the box. How can you take a unique spin on a usual topic and make it something that people want to talk about, share and remember? The moment you think your industry is too boring for anyone to really care is the moment you need to find a new industry to work in!
Categorized in: Inbound Marketing
Like what you've read? Please share this article