Does Your Website Have a Clear Focus?
Written by Nick Stamoulis
When we receive an inquiry from a prospective client, the first thing we do is take a look at their website since that's where we'll be spending the majority of our time. If it's not almost immediately clear what the company does or what products they sell, we already have hesitations about working with them. That's because we've found that the clients that often have the most SEO success are the ones that specialize in one niche and the website is built to support that. A website that focuses on one specific thing is straightforward. Both visitors and the search spiders immediately recognize what it's about which means that SEO efforts will make more of an impact.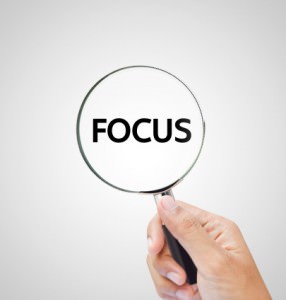 While it seems pretty straightforward that a website should be focused in order to improve the user experience, it's crazy how often that just isn't the case. There are plenty of business websites out there that you may land on and say, "huh?" A disjointed website is often the sign of a disjointed business. The business owners weren't quite sure exactly what direction to take so they went in a few different directions, hoping that at least one thing would stick. One problem with this approach is that you also can't focus your target audience or your marketing efforts, including SEO.
If you aren't focused on one niche it's difficult to create the trust that is so crucial to SEO success. One focus means one strong set of relevant keywords to target and one topic that all thought leadership content can be written about. If a website goes in many different directions, targets many different and unrelated keywords, and has content about a variety of topics it can be confusing. Visitors to the site aren't sure what they are looking at and the search spiders aren't sure where to place your site or what it should rank for. One key piece of SEO advice- don't make it difficult for the search spiders to understand what your site is about!
Targeting many different keywords or targeting a very broad set of keywords means that there is more competition and it will be that much more difficult to find SEO success. For example, an attorney should never just target "attorney" or "lawyer". Even if the keywords are localized there's probably still lots of competition. Instead, the site should be focused on their specific practice area. If your specialty isn't clearly outlined, it could mean losing business to visitors that are looking for someone with a strong background in one particular practice area.
It's difficult to understand why so many websites take this broad approach or offer products or services that aren't clearly related to one another. It could be the Amazon effect. "Amazon sells everything you could ever need and is successful, so why shouldn't we sell different types of items?" you may think. Or you look at popular blogs that discuss a number of different topics. Well, large websites and established brands can do this. If you are a small to medium sized business, you can't. It's better to focus on one thing and do it well and achieve a great search ranking presence for those keywords than to have a strategy that's all over the place.
Categorized in: SEO
Like what you've read? Please share this article