Interview with Viktar Khamianok of Link Assistant
Written by Nick Stamoulis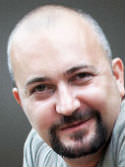 Recently I had the chance to interview Viktar Khamianok, the creator of the SEO software SEO PowerSuite and Link-Assistant.com. There are plenty of SEO software products that do one thing really well, but SEO PowerSuite was designed to give site owners all the tools they needed to create, execute and manage their SEO program using one software program. Thanks so much to Viktar Khamianok for spending the time to answer all of my questions! 🙂
Question: You come from a software development background. When did you first start paying attention to SEO?
Answer from Viktar Khamianok: True, I come from a software development background. It was in 2004 when my friend Aleh and I launched our software development business. We started a site to offer our services, looking for ways to make it visible in organic search. That was how we got introduced to a fascinating world of SEO, web promotion and search.
Question: How has your technical background influenced the way you approach SEO?
Answer from Viktar Khamianok: I was always looking at SEO from the point of view of structure, strategy and efficiency, heavily relying on analytics and KPIs. Related to my technical background or not, but my approach has definitely found reflection in the software we have developed over the years.
Question: Where did the idea for SEO PowerSuite come from?
Answer from Viktar Khamianok: As I've already mentioned, the launch of our portfolio site offering our services as software developers was the point when we got introduced to SEO. And it didn't take us long to realize there was hardly any product on the market to help us with well-rounded web promotion.
All we found were separate products like broken link checkers or tools that analyze keyword density, and we weren't sure whether we should use those, what was the preferable order to use them and if we were missing out on any important aspects.
Thus the problem was explicit: there was no all-in-one SEO software to take site owners like us by the hand all the way to the Google top.
SEO is truly no rocket science. It is played by certain rules, and it doesn't take long to master playing by those rules. Sometimes new SEO trends would appear and rules would change slightly, but once you adapt, you're fine again.
But the problem is many site owners, like me and Aleh back in 2004, have enough on their plates besides SEO. And there's no point for them to sacrifice their time in mastering search optimization in expense of their main activities, like providing software development services.
That was the point when it stroke us: we should develop SEO software to provide site owners with the value of one-stop-shopping. That's where the idea for SEO PowerSuite came from.
Question: Why did you decide to start you foray into SEO software with a link building tool? Why not a keyword research tool or broken link checker or something else?
Answer from Viktar Khamianok: As we were shooting big from the very start, planning to have well-rounded suite of tools, we definitely had a keyword research tool and a backlink checker that would spot broken links and what not on our roadmap.
In 2004, reliable link building and link management was high on our personal priority list, so LinkAssistant was the first tool we came up with.
Question: SEO PowerSuite has four separate tools (Rank Tracker, WebSite Auditor, SEO SpyGlass and LinkAssistant—did each of these tools come into life because of customer demand or were they part of your long term vision for the company?
Answer from Viktar Khamianok: Great question! You see, conceptually we always wanted to develop a one-stop-shop solution for webmasters. That said, we had a suite of tools in mind to handle various aspects of SEO, i.e. we planned a tool to take care of on page issues, a tool to research competitors' links and a tool to find and analyze keywords and check positions in SERPs.
However, as you can imagine, search is an extremely exciting and fast-paced industry. Through these eight years, we've been carefully following the market trends, adding features we have never thought of initially.
Moreover, we're blessed with our amazingly loyal and responsive customers who share their ideas on how the software should be improved further. I believe about 90% of new features in 2011-2012 were added upon customer request.
Question: If a customer could only afford one of your tools which one would you tell them to start with and why?
Answer from Viktar Khamianok: Start with downloading all the four tools: Rank Tracker, SEO SpyGlass, WebSite Auditor and LinkAssistant. Our software comes up in three editions: Free, Professional and Enterprise. Though SEO PowerSuite Free has limited functionality, it's capable enough for an SEO start and making a decision if you need the software in Pro or Enterprise.
It's really hard to tell which tool of the four is 100% must-have, as they work as a system. If you're on a low budget and do have to choose just one tool, my advice would be to play around with the free version and decide for yourself. Many webmasters with multiple sites rely heavily on Rank Tracker as they have to keep an eye on their positions daily. Others love SEO SpyGlass for the opportunity it gives to replicate competitors' strategy. Some promoters would view on page issues and content as their top priority, so they choose WebSite Auditor as a must-have. Others reveal hidden powers of LinkAssistant as a link management tool: they use it to supervise the effectiveness of their ads, guest posts, reviews and what not.
Question: How much has SEO PowerSuite had to evolve to keep up with the changing search algorithms, especially in the past year?
Answer from Viktar Khamianok: So true – search algorithm updates have been a burning SEO topic during the past year. It's not the case that our tools have changed. Rather, the way people started using them to fight Penguin and Panda has changed. Take SEO SpyGlass for example: after Penguin, webmasters became focused on checking link diversity and anchor text diversity.
Also, our work with respect to Google updates was more focused on generating anti-Penguin content rather than altering the software. In summer, we came up with several guides to help SEO community overcome the updates. One of these guides was even nominated as Best 2012 Article of Search Engine Journal.
Question: What's the biggest challenge you see site owners facing today with regards to SEO? How does SEO PowerSuite help them overcome that challenge?
Answer from Viktar Khamianok: Nick, you must have noticed that this summer the SEO world has gone mad: people were removing their links in panic, sending requests to one another, and looking for magic bullets to stay on top on SERPs. I believe that the biggest challenge site owners are facing today with regards to SEO is inconsistency and panic. A consistent SEO strategy should always be in place.
Always have a developed SEO strategy and stick to it. Read Google guidelines. Do not do anything that can be interpreted as gray or black optimization. Research your niche and replicate what others do to a certain degree. Monitor the progress and make changes based on informed decisions if required.
That's what SEO PowerSuite tools help with as well: they help people shape their SEO strategies and monitor the progress.
Question: What do you think is the most critical component for SEO success?
Answer from Viktar Khamianok: Focus and consistency – as with many things in this life.
Question: Is there any tool or capability you are working on adding to SEO PowerSuite? What will it help site owners do better?
Answer from Viktar Khamianok: SEO PowerSuite is a complete set of tools, and we're not planning to add any extra tools to it. However, we keep improving it, committed to add new features every two weeks. As I have already mentioned above, most of these features are added upon request of our clients.
On November 13, 2012, we have entered entirely new market. We released completely new software – BuzzBundle (in beta).
BuzzBundle is social media software outside of SEO PowerSuite pack. It's a convenient desktop platform targeted for reputation management and handling all social media activities in one convenient environment.
We're extremely excited with BuzzBundle release: new market, new opportunities, new bloggers and social enthusiasts to meet and engage with.
We are also proud that now our customers are able to rely on Link-Assistant.Com's tools alone to leverage overall web presence: both organic (with SEO PowerSuite) and social (with BuzzBundle).
If BuzzBundle is not on your radar yet, download it for free from our official website and start creating smarter, louder noise for your brand.
Connect with Viktar Khamianok on LinkedIn!
*****
This non-paid interview is designed to give the Brick Marketing audience insights and different perspectives of SEO, link building, social media and web marketing. Past expert interviews include: Ann Handley, Eric Ward, Mike Moran, Andy Beal, and Jordan Kasteler to name a few.
If you would like to be interviewed by the Brick Marketing team please contact Brick Marketing here:
https://www.brickmarketing.com/contact
Categorized in: Expert Interviews
Like what you've read? Please share this article