User Experience and SEO: Why They Need to Work Together
Written by Nick Stamoulis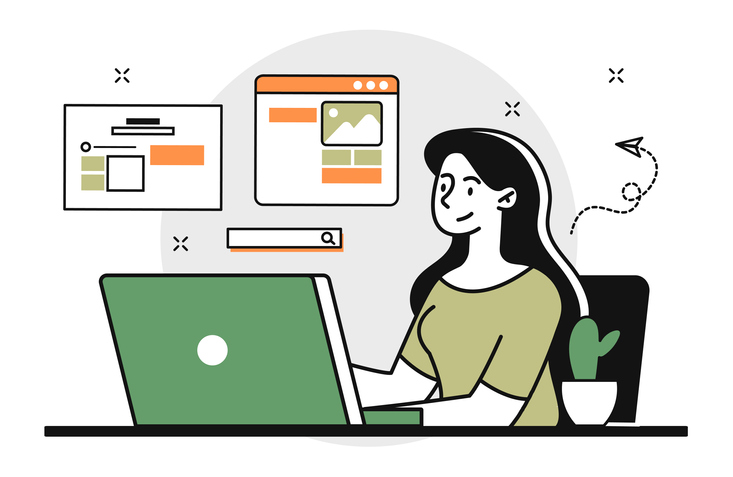 User experience is a hot topic in web design and development. It touches everything from how your site looks to how it feels. The goal is to create a site that performs well and provides a good experience for people who use it. User Experience (also known as UX) is about making sure your users are happy with accessing your website and using your services
.
SEO stands for search engine optimization. It's the process of tweaking how you present your content to rank higher on search engines. When these two concepts work together, you get a winning combination. Together, they make up what's known as User Experience Management or UXM.
You may be thinking about why it matters or if you even need to worry about it if you're not in the tech industry? If you have an online presence, user experience and SEO are essential to your business's success.
Why User Experience Matters
UX and SEO go hand in hand. You can't have a good UX without SEO, and you can't have SEO if your site doesn't provide a good user experience. Imagine coming across a website with a confusing layout that takes forever to load. Those things would ruin the user experience and probably make someone leave the site before finding what they were looking for.
The importance of UX is undeniable, as it impacts conversions. If people can't find what they're looking for on your website, then it's likely that they'll never convert into paying customers. If you require to develop an effective website, remember that UX and SEO need to work together.
How to Improve User Experience and SEO
A site that offers a bad user experience will make users less likely to return. The same is true of websites that rank poorly on search engines. To improve both, you need to work together and make sure your website is easy for people to use and ranks well for the right keywords.
There are many ways to improve your UX and SEO. Here are some suggestions:
Optimizing your content for search engines using keywords, metadata, and title tags
Ensuring your page speed meets Google's standards
Updating your WordPress plugins regularly to avoid security flaws and speed issues
Make sure you're using an up-to-date version of HTML5 or HTML
SEO Basics
SEO is a crucial aspect of online marketing. It's about getting your content found by the people searching for it through organic search results like Google. The idea is that when someone searches for something on Google, you want them to find and click on your link.  Armed with the basics of SEO, you might be wondering how to make it work for your business. This can depend on several variables.
Optimizing the Title and Description for SEO
The essential thing is optimizing your title and description for users and search engines. This way, you will attract more people interested in your brand and make it easier to find you when they search for a keyword related to what you offer.
The initial thing that needs to be done is research. It would help if you had insights into what people are searching for to use those keywords in your page's title and description. Then, use these keywords throughout the content on your site and blog posts.
Sometimes, marketers will include the exact words or phrases repeatedly to rank higher on Google if someone searches those phrases. But this doesn't mean that using the exact keywords makes it easy on the user experience-in fact, and it can end up annoying them. Be careful about how often you use certain words or phrases because this could lead to a bad user experience.
Link Building: The Easiest Way to Improve Your SEO
Links are one of the most important things when it comes to SEO. They let search engines know that you're an authoritative source, and they make your website more attractive to bots. This is an excellent thing for your rankings. But how do you get quality links?
If you want to improve your SEO, you should build links. You can do this by reaching out to other people in your industry or offering something valuable in exchange for a link. You can reach out to bloggers who might be interested in featuring your company as part of their content and submit them something valuable in exchange for exposure.
Keywords in Content
Website content is a massive part of SEO. It's vital because it plays a role in how search engines rank your site. It's common for the keywords you want to rank for to be included throughout your content. Search engines look at this information and use it to determine what pages are most relevant for search queries.
So how can you include keywords throughout your content? You can keyword stuff or incorporate them naturally into the text you're writing about your business. Keyword stuffing is when you have too many keywords in one place. This will make people think that your website is spammy or unoriginal, and they won't want to interact with it. It would be best to incorporate keywords into sentences so they don't seem out of place or forced.
How do you know if your content sounds natural? Read the material and see if there are any evident signs that these words have been inserted strategically into the text rather than used naturally by the writer. Remember, SEO doesn't mean making things up.
By combining UX and SEO, you can create a cohesive strategy that will guide your business in the right direction. User experience is all about how a person feels when interacting with your brand. It's about how well you communicate your value and meet their needs. SEO is about delivering the right content to the right person at the right time. These two things work together to grow your business.
Categorized in: SEO
LIKE AND SHARE THIS ARTICLE:
READ OTHER DIGITAL MARKETING RELATED ARTICLES FROM THE BRICK MARKETING BLOG: