The Untapped SEO Potential of Content
Written by Brick Marketing
A few months ago Matt Cutts came out against guest blogging, saying;
So stick a fork in it: guest blogging is done; it's just gotten too spammy. In general I wouldn't recommend accepting a guest blog post unless you are willing to vouch for someone personally or know him or her well. Likewise, I wouldn't recommend relying on guest posting, guest blogging sites, or guest blogging SEO as a link building strategy.
Of course the SEO community was up in arms over this comment, rallying to defend guest blogging as a viable SEO tactic. For those of us that adhere to a white hat SEO approach, guest blogging was never just about link building. Yes, links are a valuable side-effect of writing for a popular and respected website, but those links drive something even more valuable than SEO points–they send targeted traffic to your website. Personally, I'd much rather have a handful of well-trafficked links that send visitors to my site than dozens of links buried in the depths of the Internet. Every link out there should be seen as a potential doorway into your website, and the content you create is what helps your website earn those links and create those doorways over time.
Google would prefer that site owners not actively build any links, and instead rely on the content they produce to naturally earn links to time. Most sites can't afford to wait for people to find their content, which is why social media promotion is so important. When you promote your content in the proper channels you give it the push it needs to get in the right hands. The more hands (and eyes) your content finds its way into the more likely you are to earn a few links over time. For instance, we have a client that has been blogging for almost three years. Every post has been pushed on LinkedIn, Twitter, Facebook, and a few other niche social sites. In those three years organic traffic has more than doubled, the site has earned links from huge sites (including The New York Times), and leads have also trended upwards year-over-year. But none of that happened overnight. It was three years of consistent content production and promotion that helped them earn those links and drive those visitors.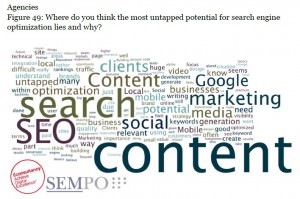 Writing for a popular industry website also helps introduce your brand to a wider audience and builds your own personal online authority. It expands your social network to potential customers you might not have otherwise met through your own channels. But you need great content on your own website or company blog to prove to other sites that you have the skills, knowledge, and passion to help their own site prosper. When trying to write for another site you need to pitch bloggers and show them how your content helps them. How can you help their site get more traffic, more social shares and connections, and grow their online authority? Your content has to make their website better. The links you get are a side effect of the great content you produce.
With all the hubbub around his comments, Matt Cutts released an addendum to his blog;
There are still many good reasons to do some guest blogging (exposure, branding, increased reach, community, etc.). Those reasons existed way before Google and they'll continue into the future. And there are absolutely some fantastic, high-quality guest bloggers out there. I changed the title of this post to make it clearer that I'm talking about guest blogging for search engine optimization (SEO) purposes.
There is a ton of value to be had with content marketing and guest blogging, provided you don't look at it as another source of links. Links are the byproduct of everything else.
Categorized in: Content Marketing
Like what you've read? Please share this article