Two Months Isn't Long in the SEO World
Written by Danielle Bachini
In an article titled, "3 Signs Your SEO Campaign Is Dying – and How to Fix It", author Jayson DeMers lists what he considers to be red flags that signal that something is wrong with your SEO campaign.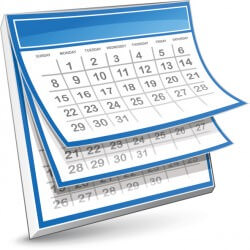 The first item he lists is "A sharp drop in organic traffic". No argument here! It's important to check your Google Analytics account on a regular basis. You may see some dips in traffic here and there but overall, there should be a level of consistency. For example, say you operate a B2B website that typically generates 60-80 organic visits a day during the week and 20-30 a day during the weekend. If all of a sudden that weekday number dips below 40 consistently, there's a good chance that something is up and further investigation is needed.
The second item he lists is "Stagnant growth or decline for more than two months". He says:
If you notice one month in particular doesn't result in growth, don't panic. However, if your campaign remains stagnant for two months or more, you might have a serious problem. What you want to see is steady, measurable growth in organic visits — if you're hovering around the same figures or if you start to see a decline, consider it a red flag.
While I agree that you want to see steady, measureable growth in organic visits month over month and that a decline is worth paying attention to, I wouldn't immediately call it a red flag (unless that decline is sharp, as discussed previously).
The most important thing to understand about SEO is that it is such a long-term strategy. It can take years for websites to see measureable growth in competitive niches. The key is to stay the course and not panic when things are stagnant over the period of just two months or even if things decline slightly. There are so many factors at play (seasonality, search engine algorithms, competitor activity) that it's not unrealistic to see a few months here or there where the numbers aren't up significantly.
In the comments section of this post, commenter Andrew Dennis shared some great insights:
…I would argue that a couple months with steady traffic numbers isn't always cause for concern.
For example, let's say you are building links the right way while your competitors are using spammy tactics. You may not see the positive results you're expecting until Google updates their algorithms (such as Penguin) and catches your competitors' manipulative techniques. Hopefully as Penguin moves to continuous updates these types of situations will be resolved more quickly, but there are still going to be times where it takes longer than two months to see major results.
While it's important to keep your eye on Analytics, Webmaster Tools, and other website monitoring tools, website owners must understand that over time, some months will be better than others. Decisions shouldn't be made (and website owners shouldn't freak out) based on just two months of data in which things remain steady or dip just slightly.
Categorized in: SEO
Like what you've read? Please share this article