Are People Still Searching for Your Top Keywords?
Written by Nick Stamoulis
One of the most important things to remember about SEO is that it is constantly changing. The search spiders get smarter with every update; meaning old tactics that used to work incredibly well are now useless (or potentially dangerous). For instance, in the last few years Google has gotten a lot better at contextual relevancy. The search spiders understand what a page is about based on the content as a whole, you don't need to shove every possible keyword in the keyword tag in order for Google to know what the page is about. Even in just four years, the kind of work I do now is drastically different than what I did when I started at Brick Marketing!
Search behavior is also bound to change over time, which can have a huge impact on your organic success. You could be doing everything "right" and still not see the organic growth you want. Take a look at this graph below, which compares search trends for "article marketing" to "content marketing."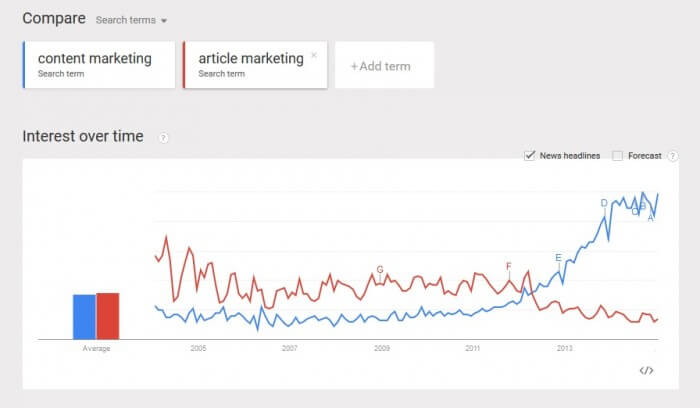 Prior to the first Panda update, article marketing was a great way to get a lot of links from a lot of sites in a relatively short amount of time. However, like most great link building tactics the spammers took advantage of its perks and eventually Google cracked down. You can see there is a huge drop in search volume for "article marketing" once Panda hit and instead "content marketing" takes over. At their cores, article marketing and content marketing should be the same thing; writing, publishing and promoting quality content that resonates with and educates your audience. But article marketing got labeled a black hat tactic and search volume plummeted once people saw it as a cheap, sleazy way to build links. If a company were relying on "article marketing" as one of their top keywords, they would see a pretty substantial dip in traffic starting in 2012. It's not because they necessarily did anything wrong, but simply that the number of people searching for "article marketing" is waning. If there are fewer people searcher there is less traffic overall to be had. It's really basic math!
If traffic to your site has been dipping slowly over the last year or so (nothing major that would indicate a penalty of any kind), take a look at Google Trends and see what the search volume for your top keywords is doing. Search behavior changes over time as your audience evolves so keywords that used to be your bread and butter could easily be on their way out! It doesn't mean your SEO program is failing or that you did something wrong, but rather that your onsite SEO isn't as on-point as it used to be. Remember, your SEO program needs to keep the searcher/customer at the heart of everything you do. If they change your SEO needs to change to meet them where they are! SEO is about being where your customers are when they need you so if they move you have to as well!
Categorized in: Keyword Research
Like what you've read? Please share this article