Buying Links on Top News Sites? Stop the Real Spammers
Written by Nick Stamoulis
A few weeks ago I was elected to the SEMPO Board of Directors. I have been working in the Internet Marketing and SEO world since 1999 and started my own SEO firm back 2005. And while I love what I do and I love helping clients build their online brand presence I have always been rather low-key. I prefer to be behind the scenes and just focus on my company and my clients, and not so much on making a "name" for myself in the SEO industry. However, after being a member of SEMPO for years I decided that this year I had to become a board member because I feel like the SEO industry itself is out of control and we need to do something about it to protect our own livelihoods and our clients' businesses.
And this email I received on March 31st is exactly the kind of SEO bull that I feel is destroying our industry and forcing Google to take drastic measures to stop spammers, making it harder and harder for the rest of us to go about our business. And while Google has done a great job of taking down many spammers that deserve to get yanked from the SERPS, far too many legitimates businesses, websites, and brands have been caught in the crossfire. Maybe they are less than perfect but no website I have ever worked with has infuriated me as much as this message.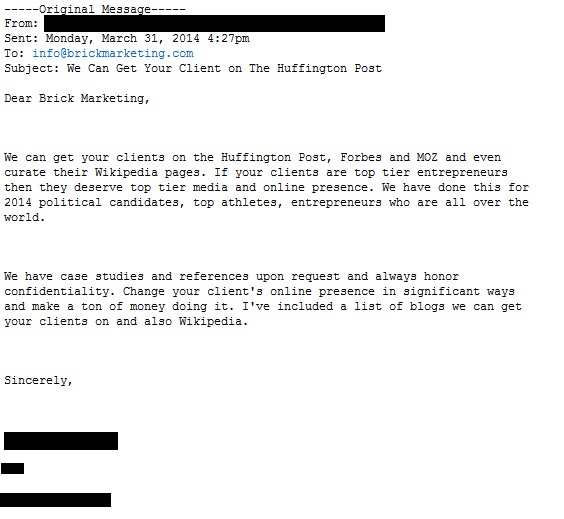 Clearly this is a spammer–they list no contact information, no website, no nothing to identify themselves! And where are these supposed case studies? Maybe they are a PR firm (giving them the benefit of the doubt) but to promise that they can get you or your client on one of these top news sites (and thereby implying links from these top site), not that they will help you pitch top sites, curate relationships with reporters, find the right exposure and websites for your brand, etc. is a gross misrepresentation of their services. And anyone who has ever tried to get on Wikipedia knows just how impossible that process can be! You can spend days writing the perfect page with zero promotional language and it'll get flagged as spam in five minutes.
They also attached an Excel spreadsheet outlining which top news sites they could get my clients exposure (links?) on and how much it would cost. This blew my mind.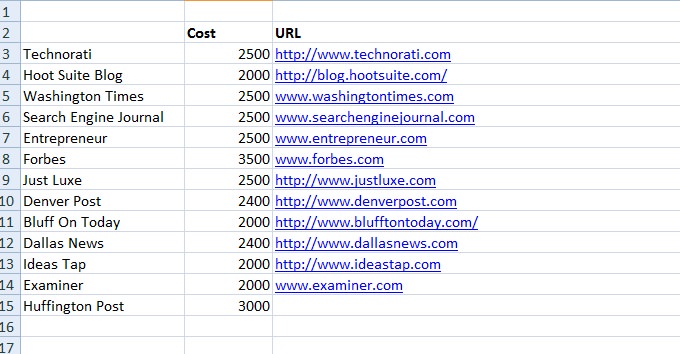 I have been writing for the Search Engine Journal since 2009 and I KNOW they would never sell links or exposure or stories. When Google pushed through Penguin and all the updates to the Webmaster Tools the editors were very upfront about how they were tweaking their editorial process to adhere to the new rules. They removed all anchor text, made links nofollow, and only allowed one branded link in your author bio—-how exactly is this supposed SEO expert going to get my clients' a story on Search Engine Journal! And what exactly kind of story are they going to get on a site that is exclusively about SEO? Is a carpet cleaner from Madison, WI supposed to pay $2500 and get a link from SEJ? That's total bull. And I can't believe that Technorati, the Washington Times, HootSuite, and the Huffington Post are selling links/stories that aren't well deserved/earned by businesses. If you know anyone at these sites please tell him or her that their brand is being grossly misrepresented and used for profit! I will email along the message I received with the email address and sender's name.
I do think that Google has taken some of their anti-spam actions a little too far and I am not alone.  Danny Sullivan reported a few days ago about an entire website that was penalized because one blog post crossed the line.
As we wrote earlier this week, here's another case of Google failing to keep its promise to provide more examples relating to penalties. Google doesn't appear to have shown what any of these unnatural links are, in order to give Sheldon a clue about what the exact problem was that hurt his entire site…
More broadly, while it's easy to dismiss all this as some type of SEO squawking, it should be pretty disturbing to any publisher that Google might fairly broadly decide just how narrow your site has to be, in order to escape a penalty, if you have guest authors it deems writing off-topic…
Why doesn't Google just ignore these bad links and not count them for or against a website? Let the spammers of the world spin their wheels creating links that might as well not exist. If the system can flag a website for unnatural links and penalize said site, why not just flag those sites and disregard them? Is one mistake really all it takes to penalize your website? I used to think that as long as the majority of your link profile and content was above board one or two slipups couldn't hurt you. After all, everyone makes mistakes and plenty of sites have terrible inbound links they didn't ask for and don't want but can't get rid of. Why should those links harm us? But in reading Danny's story above it seems that one mistake is more than enough to cross the line.
And if the links are going to hurt us, why not just spell out EXACTLY what links are the bad ones instead of having small business owners stuck in the muck and the mire of the reconsideration process for 6 months. HELP US DO A GOOD JOB! How many well-meaning site owners are stuck with a penalty simply because they A) didn't know better or B) trusted the wrong person with their SEO?
In my opinion, it's people like the ones that emailed me (and I easily get 3 or 4 emails like this a day) that are forcing just drastic actions from Google. Meanwhile, those of us that do our best to adhere to the Webmaster Guidelines and play by the rules (and it seems like the rules change every day), are squeezed harder and harder and forced to walk an ever-narrowing line of white hat SEO.
Help me out the real SEO spammers like the ones that emailed me and those like them–that promise the moon and then some to clients, then burn and churn them, wrecking havoc across the SERPs and making it that much harder for the rest of us to do a good job.
Categorized in: SEO
Like what you've read? Please share this article