Social Traffic Can Hold You Over While You Waiting for Organic Traffic
Written by Brick Marketing
Oftentimes SEO can feel like a huge game of hurry up and wait. You create tons of content (both static and fresh blog posts), agonize over the usability of your website, spend hours digging for the best possible links and hunting down new linking opportunities, measure and test every little conversion aspect and more. But even with hours upon hours of work behind you (and plenty more ahead) the organic traffic just isn't there. Why not? Well, just because you create a piece of content or link today Google might not find/crawl it for a few days or even a few weeks. That's why you have to take the link report in your Google Webmaster Tools account with a grain of salt; it doesn't update in real-time. And newer domains have to earn their spot in the SERPs, a process that could take months, if not years, depending on how competitive your industry is. But most websites can't wait months for organic visitors to start showing up, so look to social media sources to keep things moving!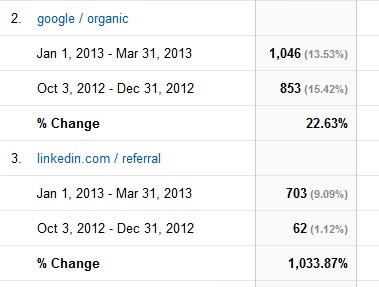 For instance, right now we are working on a site that's been around for years (good domain authority) but organic traffic is actually one of the smaller traffic sources; maybe a few hundred visitors each day. But traffic from Facebook is easily 1500-2000 visitors a day! Social sites, like Facebook and Twitter and Pinterest, can be a great source of immediate traffic while you are waiting for Google to start sending visitors your way. For instance, one of our clients saw a 1,033.87% increase in traffic from LinkedIn in just a few short months. Meanwhile, Google traffic had only increased 22.63%. Not that a 22% increase in organic traffic in just 3 months is bad (that's actually very solid), but it pales in comparison to 1,000%.
However, in order to drive social traffic your way you need a lot of content to keep social connections engaged and involved. Those Facebook or LinkedIn visitors need a reason to leave the social site and head your way—so what kind of information peeks their interest enough to get them to click? For our client with the huge surge in LinkedIn traffic, we helped them write one to two blog posts a week and submitted them to various LinkedIn groups. Just 15 or so pieces of B2B related content generated 700 visitors from LinkedIn! In one year, all their activity on LinkedIn generated 4,902 visitors, or 14.31% of their total site traffic.
The great thing about social media marketing is that it's permission based. Once someone chooses to Like/follow your brand you have the ability/okay to actively target him or her. They want to hear from you so why not take advantage of that opportunity? The downside is that most people don't head to Facebook looking for something in particular, unlike search where people are actively seeking answers, so you have to create content that stands out from all the noise. Think about how many links there are on someone's Facebook homepage–why should your content get his or her click and attention?
Categorized in: Social Media
Like what you've read? Please share this article