Should We Care Who Our Social Followers Are?
Written by Danielle Bachini
A client that has been running social advertisements in an effort to gain more followers recently came to us with a good question. The client noticed that some of its followers included "Bobby, a 14 year old vegetarian" and "Sally, a mom of 3 that enjoys knitting". To the client, neither of these people appear to be a good match or members of its target audience so the client was wondering, "Should we care who follows us in social media?" Unfortunately due to the nature of social media, a business can't control who follows it as long as the account is Public (which it should be).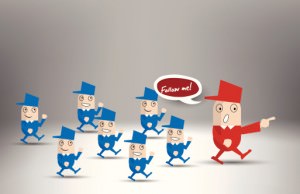 This doesn't mean that a business, in an attempt to get more followers, doesn't have any control over the situation. Social media advertisements should always be as targeted as possible. Each of the social networks handle social advertising slightly differently, but they all allow advertisers to be selective about who sees the ads. On LinkedIn advertisers can target members of groups that are relevant to the niche.
On Twitter advertisers can target people that are similar to the people that follow relevant industry accounts that are specified. On Facebook advertisers can target people that have certain interests or work for specific companies. Of course it takes time to research industry groups, accounts, and interests but there is a much greater likelihood that the people that see the ad will actually take interest in the ad and follow the account. There are many additional ways to target that include location, age, and educational background.
Yet, even with all of this targeting there is no way to control that actually follows your account. Some irrelevant followers are bound to sneak in there. Sometimes social followers are completely random anyway. All they are doing is trying to attract attention to them. They will start following any account in order to get a return follow. Most of the time if they don't get a return follows within a certain amount of time they will unfollow you anyway. So it's usually short-lived. But as your account grows and you start to get more and more relevant followers, the account becomes a more attractive target for the spammers.
It's also worth considering that an account that might not look relevant right off the bat, might in fact be relevant. For example, maybe Sally the mom of 3 that enjoys knitting is in fact a member of your target audience. Her profile might not have a description that fits what you are looking for, but she might just choose to keep her professional life and occupation out of the description but still chooses to follow accounts that could be work related. You really don't know, which can be frustrating but it's all part of the personal/professional blurred line that often occurs with social media.
The best way to know if your followers are relevant is to pay attention to your Analytics over time. If your followers are relevant and you are sharing website content (blog posts) with them in social media, social referral traffic should increase.
Categorized in: Social Media
Like what you've read? Please share this article