3 SEO Reports to Show Continuing Success
Written by Nick Stamoulis
Obviously every site owner wants to see SEO reports that show an increase in organic traffic month to month once they start their SEO campaign. Unfortunately, very few (if any) SEO campaigns are going to experience exponential traffic growth. Some months are bound to be slower than others for a variety of reasons—seasonality, a slashed PPC budget, lack of content, etc—but just because this month doesn't look as good as last month in terms of organic success that doesn't mean that good news can't be found! You just need to know what other SEO reports to pull.
1. Year-over-year comparison.
A year-over-year organic SEO report gives site owners a high-level look at what kind of impact their SEO campaign is having on their site. And when you strip away direct traffic, referral traffic, and paid traffic you are let with just the visitors that came purely from your SEO efforts. Not to say that SEO can't influence your direct and referral traffic (great links mean more traffic) but a year-over-year SEO report can show you just those visitors that came from the search engines.
I've had several full services SEO clients in the past that, when you pull the year-over-year SEO report it looks like traffic has actually dropped. But when you look at just the organic traffic has actually gone up. It was another traffic source, like PPC, that slipped and impacted how their overall numbers looked.
2. Traffic breakdown by source.
Even if your SEO reports don't look that impressive by visitor count, running a report that breaks your traffic down by sources gives you a good idea of which sources do the best. You can compare this breakdown to before and after you started your SEO campaign and hopefully you see improvement in organic traffic, referral traffic (from link building), and social traffic (from content promotion).
The graph below shows one of Brick Marketing's B2B SEO clients.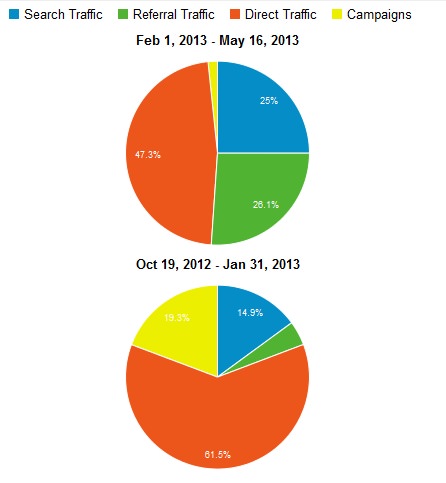 We began their SEO program back in February 2013 and you can see that in just a few short months their traffic sources breakdown has dramatically shifted and for the better! Instead of relying so heavily on direct traffic now our client is getting more equal parts organic traffic, referral traffic, and direct traffic. Having a more well-rounded traffic breakdown helps protect their website from unexpected changes and ensures that if one traffic source fails they don't lose everything.
3. Blog post performance.
One of my favorite SEO reports to show clients is an example of how well their evergreen content is doing. One blog post will generally see a spike in activity right when it goes live, but over time that single post can generate hundreds of extra unique visitors from the SERPs. An SEO report that show how much traffic one or two of the more popular blog posts are pulling in really helps make the case for business blogging. For instance, if one post generated 200 extra visitors in 3 months, imagine how many visitors it will generate over the course of the year. Now multiple that by 10 extra blog posts and suddenly you can understand why companies that blog more get more traffic!
Categorized in: SEO
Like what you've read? Please share this article