Avoid the SEO Firm That Promises the Moon
Written by Nick Stamoulis
For a few months I've been testing targeted Twitter ads, seeing if any decent leads came through the pipeline. As a way to pre-qualify any visitors, I wrote the ad copy to include a base price so I don't have to pay for tire-kicking traffic or worry about sorting through potential leads that aren't a good fit for us (or us being a good fit for them). But one day another SEO firm responded to my tweet and this is the conversation that followed: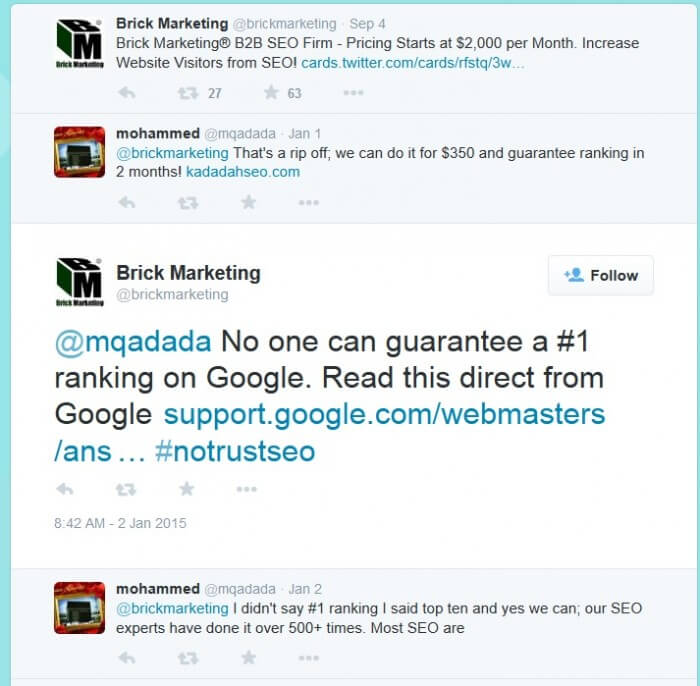 Here it is, direct from Google:
No one can guarantee a #1 ranking on Google.
Beware of SEOs that claim to guarantee rankings, allege a "special relationship" with Google, or advertise a "priority submit" to Google. There is no priority submit for Google…
I want you to think about how much you pay your employees, any of them, for any job that they do. How much does $350 really get you? Even if you are paying someone $10 an hour (35 hours of work) what are you actually having that person do? Chances are you are not putting the future of your company in their hands! They are probably doing low-level grunt work; data entry, filing, errands, etc., right? Stuff that needs to get done but isn't mission critical. But when you work with an SEO provider you are putting your online brand in their trust! The work they do will directly influence how well your site performs organically now and for months down the road, for better or worse. As Google says in their Webmaster Guidelines, "Ultimately, you are responsible for the actions of any companies you hire, so it's best to be sure you know exactly how they intend to "help" you." I've worked with more than one company that was hit with a Google penalty because their SEO provider was using black hat tactics and trying to game the system. The SEO provider gets to walk away free and clear, but that client was left holding a mess of a website and it took us over 6 months to undo all the bad work that had been done. And that was one of the easier ones!
One of the best ways to judge the quality of an SEO firm is to see what kind of SEO work they do for themselves. After all, they are in complete control of their own SEO program so if they can't do a good job for themselves how will they do a good job for you? A quick search for the company name pulled up this article from August 2014. The author is "skin care," which is a keyword as an anchor text (a no-go), but the profile links back to the SEO's website. Back in January of 2014 Google's Matt Cutts told webmasters and SEOs NOT to use article directory sites for link building strategies. In fact, Google's Panda update (which is over two years old at this point) was designed to take down spammy and low-quality article submission sites. If this SEO firm is still using free article submission sites for their OWN content, what are they doing for clients?
I want you to think about how much time you spend on your content marketing efforts. Even smaller businesses send emails, write new product pages, update their website, manage a business blog, schedule social media updates and so forth. If you have to guess, how many hours a week do you spend writing? Now how much is YOUR time worth? Even if you pay yourself $20 an hour, for $350 a month you're looking at 17.5 hours of work. I think it's safe to say you spend more than 18 hours a month marketing and building your business, right? How much work can you get done in two days? How much work do you expect someone else to get done? The reason why I priced our SEO services like we did is because I know exactly how much time it really takes to do a good job with SEO, social media and content marketing. And while I want to do a good job for my clients, but I also have a team I need to think about. We can't work for free and expect to stay in business for very long! So I price our services based on the quality of work AND the amount of work my team will put in.
Not every SEO provider is right for your business. There are hundreds of SEO agencies and consultants out there that will do a great job for your website and it's important you thoroughly vet all your options before working with one. Yes, some firms will be more expensive so you have to decide how much work you expect your SEO firm to handle and how much you can afford to pay for that work.
Categorized in: SEO
Like what you've read? Please share this article