SEO is Part of Something Bigger
Written by Brick Marketing
Too often we treat the various aspects of our marketing programs as individual things. Social media lives over here, content marketing lives over there and SEO is somewhere off in the distance. No matter how big or small your marketing department is, keeping all the pieces moving and in-synch without crossing the wires and losing focus is a hard task. I know first-hand how easy it is to get lost in social media and spend 3-4 hours scheduling updates, responding to comments, reading articles and sharing them, posting photos and so forth. It's too easy to lose the forest for the trees! But if you want to do your marketing right, including your SEO, you need to remember that one hand washes the other and nothing you do to market your business, both online and offline, happens in vacuum.
Content Grows Your Organic Presence
Every URL you create on your website has the chance to rank organically for various search terms. The bigger your website is the more pages there are for Google to crawl and index and serve up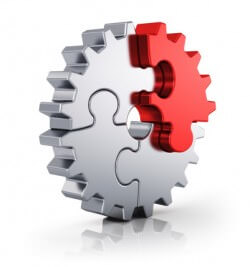 in the SERPs. This is not to say that you should create 100s of pages of fluff content or keyword-rich content (people certainly used to!) so you can artificially inflate your organic presence, but be aware that all the non-gated content you create serves as another entry-point into your website. That's why a business blog is so important for long-term organic success! Most websites don't grow too dramatically, but your blog could grow exponentially and every post is one more touch point with your target audience. For one of our clients, for instance, their company blog is worth about 30% of their organic traffic! Those visitors spend more time on their site, signup for the company newsletter, share their content (which in turn generates links that boost the value of the site) and eventually become customers. Without that content their organic growth would just be a fraction of what it is.
One Good Story Influences the Value of Your Domain
You can't plan for a story to "go viral." In my mind, something that is viral is something you can't control, while most marketing campaigns are in fact very controlled and planned and tweaked. But every now and then a company strikes gold and a small story goes viral, earning them thousands of links and news stories and social mentions and shares. That one story can dramatically increase the value of your domain in the eyes of the search engines because you earned them naturally. For instance, Dollar Shave Club put out a video in 2012 that took a company no one knew about to one everyone has heard of. That ONE video has 17,625,425 views and I can only begin to imagine how many sites have linked to/shared it over the last few years. That one viral video got everyone's attention and earned their domain a lot of links and PR and social followers.
PR can happen offline as well. Are you familiar with the show "Shark Tank?" Entrepreneurs pitch their company/product to a group of investors, hoping to land a deal. But even those entrepreneurs that DON'T get the $250k investment see a huge spike in web traffic and business after their episode airs. That kind of offline exposure directly influences their online presence, making people aware of the company and getting them actively searching for that brand. People write recaps of the episode, linking to the website and boosting the SEO value of the domain as well.
Social Media Impacts Your Brand's Reach
If SEO is the long game (and it certainly is!), social media is both immediate and long-term. You can publish something and promote it on social media to immediately connect with your friends, fans and followers. For better or worse, one update can "go viral" and put your brand in front of a lot of people. For instance, when the lights went out during the 2013 Super Bowl Oreo tweeted this out a few minutes later. Two years later it's still one of the best real-time tweets I've ever seen and shows just how far one little social snippet can reach. Oreo had a homerun, but other brands have seen one bad moment echo in the halls of social media. Did you hear about the Comcast customer service call from hell? Well social media certainly did, and it's just one of the many social media horror stories Comcast has had to learn. For better or worse, social media can introduce your brand to millions of potential customers and help you connect to them in ways you never thought possible.
Categorized in: SEO
Like what you've read? Please share this article