3 SEO Mistakes That Can Ruin Your Website
Written by Nick Stamoulis
Thanks to all the changes Google has made to the Webmaster Guidelines in the last year or so, playing by the rules is harder than ever. With less and less wiggle room to make mistakes, plenty of site owners are getting flagged by Google updates like Panda and Penguin simply because they didn't realize the game has changed. We have worked with plenty of sites that were penalized, either manually or thanks to an algorithmic update, and let me tell you the recovery process is not worth whatever short-term gains you may have had from taking short cuts! Protect your website, your brand, and your overall online presence by avoiding these 3 SEO mistakes.
1. You pay someone else to build links but never actually check their work.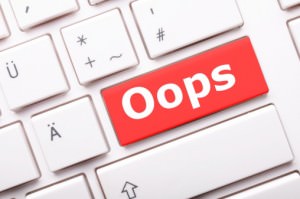 We are currently working with more than one client that put their faith in the wrong SEO provider and subsequently their website was penalized (manual actions and algorithmically) for unnatural link building. Even if you outsource your SEO work it's important to not wash your hands of the entire process. Insist on monthly link building reports and 100% transparency with your SEO partner! At the end of the day their work impacts your website, for better or worse, and if things so south it's not their brand that can be ruined by Google. It bothers me that anyone can set up shop and call themselves an "SEO expert," even if they know nothing about SEO. Please, do your due diligence before you hire an SEO provider and make certain you are working with a reputable provider.
2. You put too many ads on your website.
In early January 2012 Google pushed out the page layout algorithm update that attacked sites with too many ads above the fold. While many site owners, particularly bloggers, rely heavily on AdSense ads as a stream of revenue "too many" ads (and of course Google doesn't say exactly how many is too many) could penalize your website. Do your best to keep a good ratio of content to ads, leaning more towards unique content. A few banner ads shouldn't cause you any problems, and Google understands that online ads are part of doing business, but when you start stuffing ads in between content in hopes that more people will click on them you are playing a dangerous game that could ruin your website.
3.  You forgot to redirect old URLs when you redesigned your website.
We have one client that is still tracking down old URLs from two redesigns ago! When you delete a page on your website you and I as human visitors may no longer see it, but the memory of Google is very long and the search spiders will keep looking for it until you put a 301 redirect in place letting the bots know that page is gone forever. Not only does that 301 redirect tell Google to give up looking for that URL, it also helps preserve any SEO value that old URL may have had, passing links, link juice, and historical value from one URL to another. Failing to implement 301 redirects means your new pages are starting from scratch. This can undo all the hard SEO work you've done so far.
Categorized in: SEO
Like what you've read? Please share this article