Valuable SEO Lessons Learned
Written by Nick Stamoulis
The SEO industry has evolved so much in the last four years that I hardly recognize it! Can you believe that 10 years ago companies would have employees whose entire job was to build link exchanges! Their annual bonus was directly impacted by how many links they could build. Thankfully those days are long gone, and I for one am much happier to be working in this new SEO world. And even though the "SEO game" has seemingly gotten a lot harder to win, the key to success isn't really a secret. Do a good job marketing your company and you'll be okay and your SEO will often be in great shape.
Here are four critical lessons I've learned, one for each year I've been working in the field of SEO:
Sometimes great links do fall out of the sky…but it's not magic.
Who knows what the future of SEO holds? Links have been the bread and butter of SEO for years (a lot longer than 4), but there is no guarantee it will be that way another 4 years from now. However, until the day comes that Google says links don't matter it's something that every site owner has to be aware of. Thanks to Penguin the great link race ended (thank goodness!), and site owners have to actually put some thought into where their links are coming from. When you write great content that speaks to your audience you WILL earn links naturally over time. And in a perfect Google world this is the only way you would earn links. However, smart marketers know that the harder they work the luckier they get. Great links don't just happen or magically fall from the sky every day; nothing comes from nowhere. All those amazing links you earn/build are the result of everything else you do to market your business online; they come from producing great content, connecting with your audience, building a solid reputation and always finding new ways to tell you story. The magical, mythical link is really the side effect of great SEO, not the cause!
The search engines are smarter than you so don't try to cut corners.
In four years I have worked with at least 6 sites that were hit with either a manual action or algorithmic penalty. A few were whacked because their previous SEO firm built links unscrupulously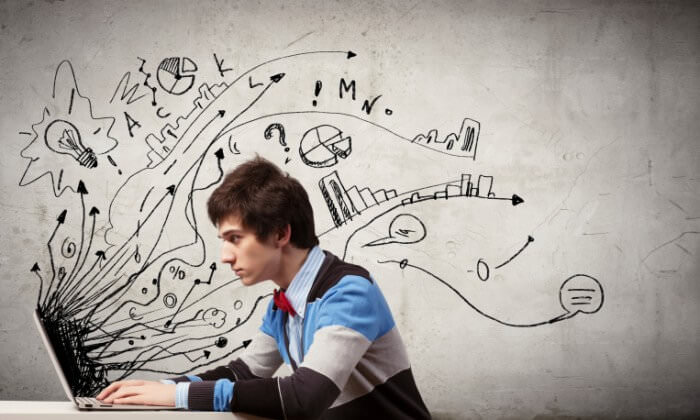 (and told them their link building practices were "proprietary" so they had no right to ask about their tactics), while others admitted they had been trying to "play the game" and Google caught them red-handed (their defense was the competition was cheating worse). It took anywhere from 6 months to TWO years for those sites to fully recover and I can't count the number of hours spent trying to undo the damage. The lesson I learned? YOU ARE NOT SMARTER THAN GOOGLE. They have hundreds, if not thousands, of the brightest engineers and programmers working day and night to tie up all the loose ends and close the loopholes in the algorithm. Even if you skate by unnoticed for a long time, sooner or later you are going to get caught and when that happens your website is going to pay the price. Are you willing to risk the future of your company for a #1 ranking? If the answer is yes, you better earn enough money in those few months at #1 to keep you afloat for two years because that might be your future.
Content always makes a difference.
SEO is a long-term game and for some of our clients the real results didn't show up until 6-9 months down the road. But the biggest return ALWAYS came from their content marketing efforts. Organic traffic overall for one client jumped nearly 125% in a year (and doubled again the year after), and easily 30+% of that was because of the two blog posts we were writing for them each week. Those two blog posts would pull in hundreds of social visitors from Facebook and LinkedIn the day they went live. They'd garner dozens of shares (even more if we broached a more controversial topic in their industry) and grew their fan base 10 times over in two years. And their monthly e-newsletter, which included 4-5 blog posts from the previous months, easily drove 3,000+ visitors to their blog the day it was sent out. Over time, as those blog posts aged and worked their way up the SERPs, the blog started pulling in hundreds of organic visitors every day. Because I always tried to write evergreen posts, blogs from a year or two ago STILL pull in valuable organic traffic.
If you can do NOTHING else for your SEO program other than write great content than write great content as frequently as you can. It will make a difference across so many levels.
If you always put the users first you'll be okay.
This might sound counterproductive coming from an SEO firm, but if you don't care about SEO chances are your SEO program will be spot on. It sounds heartless, but Google doesn't care about your website; they are about their searchers (your customers!). If you can help Google create a great search experience by giving searchers exactly the information they need when they need it than you are going to do exceptionally well organically. If you don't help Google create a better product than you won't–it's that simple. ALWAYS put your users/visitors/customers first and chances are you won't make bad SEO decisions (like building scummy links or spinning articles) because you'll realize that doesn't help your audience. What does help your audience, things like great content, a real story, useful information, a powerful social presence, and a true personality, will help your SEO. Above all else, Google seems to reward authenticity. If you stay above the board and honest and true and always focus on the human on the other end of the search experience you'll be okay.
Categorized in: SEO
Like what you've read? Please share this article