Create SEO Content for the Entire B2B Sales Cycle
Written by Nick Stamoulis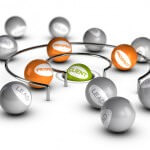 We know how important content is for SEO. It's what the search engines "see" and use to determine web page rank. While B2B website owners understand this, many are making the mistake of having a narrow focus to SEO content creation and only targeting prospects that are at the bottom of the sales funnel.
B2B decisions take time, sometimes months or even years. A company isn't going to spend thousands of dollars on a product or service without doing their research. The research phase is the top of the funnel, which doesn't always get the attention it deserves when it comes to SEO content creation because a company doesn't want to "waste" its time on informational searches that don't always translate into sales. The problem with that thinking is that the search might not translate into a sale immediately, but it could down the line. While it's true that general, broad type keywords are more competitive, this is really where you need to first capture the interest of a potential customer or client.
It might take time to generate traffic from broad, information-based keyword searches, but it's important to keep in mind that it's a long-term approach. And in the short-term, there are other ways to get eyes on the quality content you are producing. All of this quality, evergreen content should be shared in social media, another important place in which potential clients/customers are doing their research.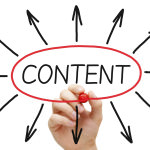 As companies are conducting their research and learn more about the industry/products/services, their keyword searches are going to change. As they move through the sales funnel, it's necessary to create content that matches their new intent. At this point, it makes sense to introduce more transactional keywords/content for the potential clients or customers that are getting ready to take action. Content targeting long tail keywords or industry jargon makes more sense the further through the sales funnel the prospect is.
While the bottom of the sales funnel is a priority, since it's where people are most likely to pull the trigger, the top of the funnel can't be ignored. The problem with focusing only on the bottom of the funnel is that you missed an important introductory period. Creating content that is focused on the top of the sales funnel is the first step towards a relationship, and ultimately trust. If your content is only geared towards those at the bottom of the funnel, you're missing the opportunity to fill the funnel by creating content that targets those at the top.
A B2B SEO program should include content that appeals to prospects at every part of the sales cycle. This ensures that your company can be a part of their entire research journey and be top of mind when it comes time to make the final decision.
Categorized in: Search Engine Optimization (SEO)
Like what you've read? Please share this article