What Does Romney's Tax Plan Have to Do with SEO?
Written by Nick Stamoulis
According to the Google Keyword Research Tool, "Romney tax plan" is getting 8,100 searches a month. When you look at the trending data, search volume for this keyword started picking up steam at the end of July and had a huge surge at the end of August into the first week of October. Obviously as the debates started and Election Day draws closer and closer, voters are interested in learning more about Romney's tax plan so it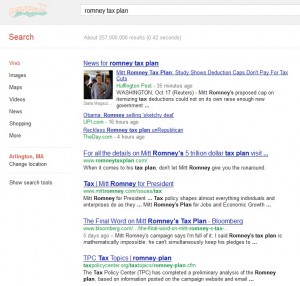 would make sense to see this kind of jump in search volume. Now do a quick search for "Romney tax plan" in Google. Obviously your search results might look a little different, but here is what I saw (click image to enlarge):
Once you get past the first few news results you'll see a website called romneytaxplan.com followed by the Mitt Romney website itself. Guess what? romneytaxplan.com isn't owned by Mitt Romney. It's not owned by a Mitt Romney supporter; it was created by Democratic National Committee. Political views aside, I saw this website as a great example of how powerful SEO can be and how even branded searches, which many site owners feel like they should have in the bag, aren't safe from used against you by the competition.
Almost every client I have ever worked with automatically assumed that their website would always and forever rank #1 in the SERPs for any branded keywords. After all, it's their brand; surely the search engines know and acknowledge that. But the romneytaxplan.com website is a clear example that just because it's your brand that doesn't mean that you don't have to worry about what kind of results are showing up in the SERPs. One of the reasons it is so important to optimize your website for branded keywords and include them in your SEO campaign is to ensure that the content you create and control is what dominates the search results. If I were Mitt Romney, I wouldn't want undecided voters finding a website about my tax plan that I didn't create. And I certainly wouldn't want it outranking my own website!
One of the truly great things about the internet is that it is the great equalizer—everyone and anyone can become a publisher. But that means that brands don't have the same control over their messaging and brand image that they typically do in offline marketing campaigns. That's also one of the reasons many companies are still leery about social media—they don't completely "own" what people say about their brand. In theory, the same thing could (and does) happen for SEO. If you don't work to ensure that branded keywords turn up the kind of results that you want your audience to find and read then you risk losing some control over your online messaging and brand presence.
If I were Mitt Romney, I would have my team focusing on creating more content that included keywords like "Romney tax plan" and "Mitt Romney on taxes" in an attempt to push romneytaxplan.com down the SERPs so searches find content that I controlled and approved of. If you do a quick search for your brand and see that you don't "own" the search results like you expected you might also want to invest a little bit more of your SEO into branded keywords and content.
Categorized in: SEO
Like what you've read? Please share this article