Can You Recognize SEO Success When You See It?
Written by Nick Stamoulis
A few months ago I got an email from one of our full-service SEO clients asking me if I had any suggestions on how they could ramp up their SEO efforts. He was looking in Moz at their site's domain rank compared to some of their competitors and felt the gap wasn't closing fast enough. So I did a little digging and in just a few minutes I realized that my client was siloing his SEO success on one single metric, Moz domain rank, and had completely missed the really amazing SEO success their site was actually experiencing!
Take a look at the graph below. We started link building campaigns for this client in February 2013. Year over year their site has seen a 210.27% growth in Google organic traffic. That kind of growth is simply incredible! Most websites can expect to see a solid 15-20% growth in about a year (but that number is incredibly dependent on a lot of external factors) but 210%? That's nothing short of astounding SEO success!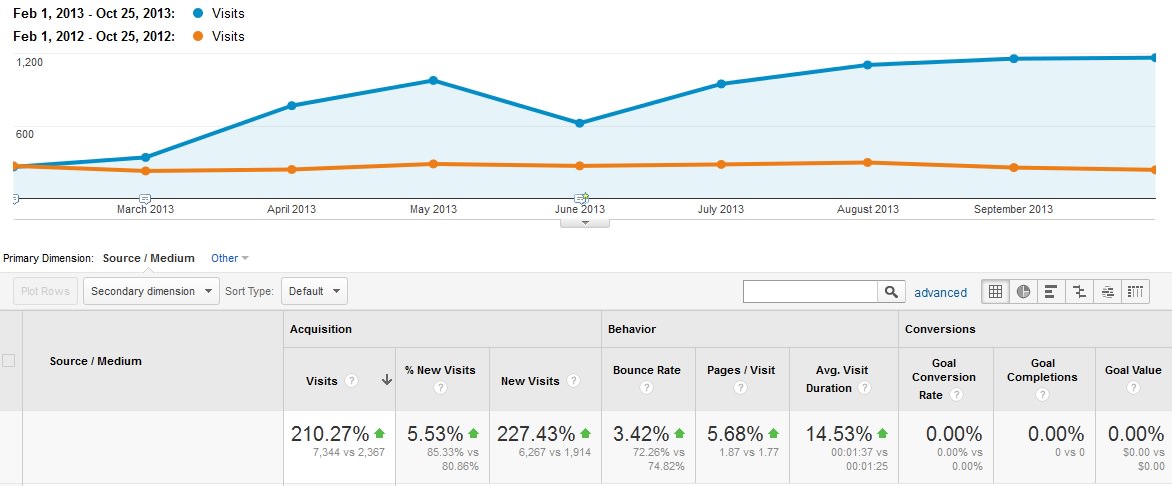 When I started looking at Moz metrics I saw that their domain authority had steadily grown through 2013, as had their total number of backlinks. But just as their SEO program was moving in the right direction, I suspect their competition was also heavily investing in SEO, social media marketing, and content marketing, which would explain why the gap between my client and their top competitors wasn't closing as quickly as my client would have liked. You have to remember when evaluating your SEO success that you can't judge your website and campaign in a vacuum. My client was only looking at domain rank compared to his competitors, which wasn't necessarily indicative of their true SEO success.
I see this happen quite frequently with ranking. Site owners want to know why their website has only moved up a few spots in rank after 6 months of SEO and what they need to do to climb even higher in the SERPs. As SEO expert Marios Alexandrou pointed out:
I don't promise keyword rankings and certainly not when the list is short. I'd much rather look at traffic to the site and conversions from that traffic. I've seen plenty of situations where traffic has increased and rankings haven't changed. I've also seen traffic go down with no change in rankings. If all I looked at were rankings, I'd be ignoring reality.
Ranking is influenced by so many factors that what you see and what I see if we were to search for the same thing could be completely different. Yes, there is no denying that ranking better tends to lead to more organic traffic, but it is not the end-all-be-all measurement of SEO success.
The client I mentioned above, from an SEO perspective, is seeing phenomenal results! Across the board their traffic is up, including social and referral, they are building and earning some terrific links, and are steadily growing their organic presence with the help of their company blog. Everything was looking so great I actually wanted to do a case study on them to show the power of B2B SEO. But because my client only looked at one lowly metric they didn't see the same SEO success that I knew to be there. When it comes to measuring SEO success, don't lose the forest for the trees!
Categorized in: SEO
Like what you've read? Please share this article