Interview with Rebecca Lieb of The Altimeter Group
Written by Nick Stamoulis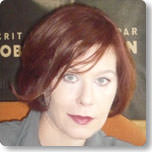 Recently I had the chance to interview digital advertising and media analyst Rebecca Lieb. Rebecca currently works as an analyst for The Altimeter Group, but she is also the former head of Econsultancy's US operations and was VP and editor-in-chief of The ClickZ Network for over seven years. For a portion of that time, she also ran Search Engine Watch. Rebecca has also written two books: The Truth About Search Engine Optimization and Content Marketing (2011) October 2011.
Thanks to Rebecca for taking the time to answer my questions!
Question: You've been producing content for a lot of top industry sites including SearchEngineWatch.com, ClickZ, iMediaConnection, and MarketingLand. So many others struggle with content creation; how do you keep coming up with new ideas for all of these sites?
Answer from Rebecca Lieb: A whole lot of time goes into producing all that content, but way, way more is invested in consuming content. It's impossible to generate ideas without inspiration and stimulation. My role as an editor, author and analyst puts me in a lucky position. I get to meet many of the top minds in the industry and pick their brains. I get to attend the major industry events. But there's something else that's been an invaluable aid in content creation – a lesson I learned from a professor in college. I was having trouble coming up with a topic for a term paper. I ran a slew of ideas by her – all questions I was grappling with, but was afraid to tackle because I wasn't convinced I could actually answer them. That professor taught me what was perhaps one of the most valuable lessons I've ever learned; sometimes, the smartest thing you can do is to ask the right question.
Question: Where do you go (online and off) to learn more and hone your own skills as a digital marketer?
Answer from Rebecca Lieb: I subscribe to over 200 feeds, which I obsessively check multiple times per day (the demise of Google Reader really did kind of break the Internet for me).  I follow lots of smart people on social media, and attend lots of industry events. As an analyst, I conduct tons of interviews with industry leaders, and do briefings with maybe five companies per week. My finger is almost never off the pulse of the industry – but still, I always feel as if I'm running just to stay in place!
Question: One piece of content could pass through a lot of hands before it goes live (writer, editor, graphic designer, CMO, social media manager, and more); who is ultimately the "owner" of that content and responsible for making sure it gets put to good use?
Answer from Rebecca Lieb: Right now, there's no good answer to that question outside of a formal media company environment. My most recent research report, Organizing for Content (http://www.altimetergroup.com/research/reports/organizing-for-content) identifies six current models enterprises are adapting to deal with the demand for content creation and production. In reality, only the most forward thinking companies have begun to address who actually owns content, or is responsible and accountable for it: how it's created, used, if it'd addressing goals – heck, what those goals even are. As content marketing grows in importance and acceptance (it unquestionably is), organizations are increasingly challenged to address internally the fact that strategic and structural foundations must be established to make all this stuff actually work.
Question: Do you have any advice for sites that are struggling with the editorial process? How can they keep the content creation process moving?
Answer from Rebecca Lieb: Again, content marketing begins with content strategy. It's not just about the fun creative, but then what are we trying to do? Why are we trying to do it? How will we measure it? Who's the audience? How will we achieve it, and integrate it into existing initiatives? Repeatable governance processes must be established to keep trains running on time. More than a few brands are creating more content every week now than Time Magazine was 25 years ago. In order to do that, you need structure and organization!
Question: How much content is "enough" for a SMB? For an enterprise?
Answer from Rebecca Lieb: Sorry, but the answer to that one is "it depends." Without the aforementioned content strategy, beginning with an audit of existing content assets and how they performing, where the gaps are, etc., you'll never begin to address that question.
Question: Owned, earned, or paid content—which one has the biggest impact on a site's online brand?
Answer from Rebecca Lieb: The answer will vary with goals, with audience and with campaign. Based on the research we did on the topic of converged media, we found that overwhelmingly, regardless of impact, marketers are beginning with owned media – with content. By monitoring how content performs in earned and paid channels intelligent decisions can then be made regarding optimization through listening and measurement.
Question: What do you think are some of the biggest missteps sites make when it comes to content marketing?
Answer from Rebecca Lieb: Tactics before strategy – the "let's launch a Facebook page" approach, with no view toward what that's meant to achieve, who's meant to make it happen or drive it forward. That's failure in the making.  There are lots of misapprehensions around content. It isn't "free," it can be measured, and it's not all about blogging or social media. Content is getting much more complicated as trends move toward mobile, visual and multimedia. New skillsets are required to pull it off.
Question: Is there any real value to be had in content aggregation?
Answer from Rebecca Lieb: Sure there is. It depends on the brand and the whys, of course. Aggregation can be a useful resource in and of itself. It can also be made stronger if the aggregator injects value, such as a strong POV or curatorial bent, into the content.
Question: What kind of impact do you think personal author authority has on a company? Should a small business owner worry more about their personal brand or their company's social authority?
Answer from Rebecca Lieb: Tough question. Sometimes, the two go hand-in-hand. You don't think of Craigslist and not think of Craig Newmark, or consider Richard Branson without thinking Virgin.  Other founders just aren't as tied to their brands, or aren't the voice of the brand. That leads to another set of considerations. Robert Scoble, for example, began as a huge voice for Microsoft; now he's just Scoble. (Even though he does have another day job) Probably no one but old fossils like me even remember the Microsoft days. This begs the contingency plan issue of having a personality as a brand voice. What happens when there's a divorce?
Question: You wrote a great post about content marketing going rouge; how can a site just entering the content/social landscape prevent this from happening?
Answer from Rebecca Lieb: Content doesn't go rogue if there's a plan that makes sense, that stakeholders are informed of and that they can reasonable follow while at the same time fulfilling their fundamental job functions. This is where content strategy comes in. It aligns teams, departments, workflow and technologies
Question: How do you feel about Google's recent changes to the Webmaster Guidelines, specifically with anchor text usage in guest blog posts? Do you think that will change how site owners approach guest blogging?
Answer from Rebecca Lieb: Lots of interesting changes going on regarding links right now. They affect native advertising (which Google is calling "sponsored content") as well as press releases and guest blogging. This is a natural result of the convergence of paid, earned and owned media. Google wants organic results and links to be generated exclusively from 100 percent owned media. Increasingly, that will become harder to do as media converge and it becomes more difficult to discern what's really editorial. Our definitions are going to shift in the next three to five years. My advice? Just focus on really good content and let the rest take care of itself. And I say this as someone whose other book was on SEO!
Connect with Rebecca Lieb on Twitter and LinkedIn.
*****
This non-paid interview is designed to give the Brick Marketing audience insights and different perspectives of SEO, link building, social media and web marketing. Past expert interviews include: Ann Handley, Eric Ward, Mike Moran, Andy Beal, and Jordan Kasteler to name a few.
If you would like to be interviewed by the Brick Marketing team please contact Brick Marketing here:
https://www.brickmarketing.com/contact
Categorized in: Expert Interviews
Like what you've read? Please share this article