Are You Really Ready to Publish that Blog Post?
Written by Nick Stamoulis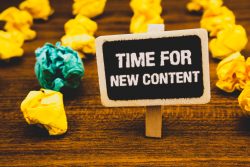 Blogging has become an important component of online marketing and SEO and what's great about it is that is has essentially leveled the playing field for companies that are trying to build their brand up online. Any company can set up a blog on their website and publish content to be shared with their target audience. Sure, it still requires a portion of the marketing budget to set the blog up and pay writers, but it's a lot cheaper than other forms of marketing and advertising and it can actually generate results. However, since it's so easy to publish a blog post you can also get into trouble.
It used to be a luxury to get your content printed in a newspaper or magazine, but with the Internet anybody can be a content publisher and the content no longer needs to go through certain channels to be approved for publication. If you have the money to set up a website and blog, you can publish whatever you want! Businesses need to keep in mind that just because they can publish anything, and publish it quickly, doesn't mean that they should. Content marketing shouldn't be about speed or quantity. It's about quality. Just because it's simple to hit copy, paste, and publish doesn't meant that you should take the process lightly. Remember, this is your business reputation on the line.
Before publishing a blog post, it's important to consider these things:
Topic
The topic should resonate with your target audience. It's OK to stray a bit every once in awhile to prove that you aren't a robot and you have a personality, but generally the posts should all be related to your niche. Over time you can build up your authority on this topic, which is what generates followers and inbound links.
Editing
When you "whip up a blog post" there's a good chance that there are going to be some errors in there. Content should always be reviewed by at least one other person on your team. Sometimes when you are working on a post you get "too close" to it and errors don't stick out like they do for someone that is reading it for the first time.
SEO
Nope, SEO isn't dead. A well-optimized blog post is going to generate more traffic to your site over time than a non-optimized blog post. Consider the keywords that your target audience is searching for and write blog content that is based on those keywords. The keywords should be implemented naturally, but they should be there. Incorporating an SEO plug in to your CMS, like Yoast for WordPress, is beneficial and serves as a gentle SEO reminder.
Image
Include an image with every blog post to capture attention. This image will appear when the post is shared in social media and it attracts the eye. Remember to give credit if you don't own the image.
Categorized in: Content Marketing
LIKE AND SHARE THIS ARTICLE:
READ OTHER DIGITAL MARKETING RELATED ARTICLES FROM THE BRICK MARKETING BLOG: